Wrangle over Rembrandt wedding paintings has no winners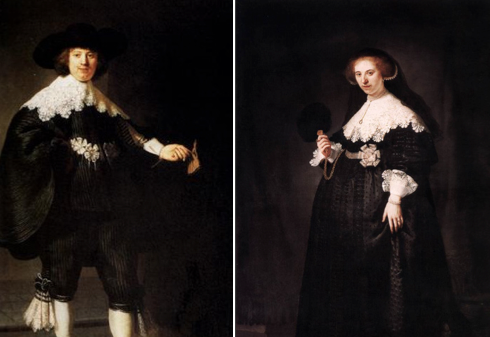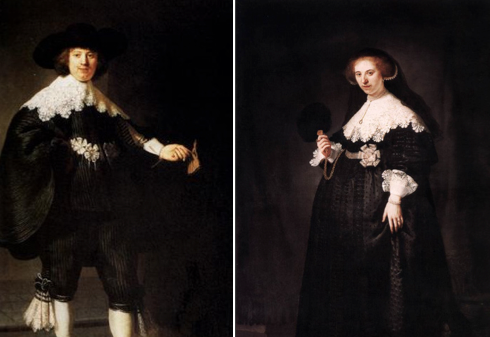 The cultural spat between the Netherlands and France has no winners but the losers will almost certainly be the two Rembrandt portraits themselves, writes art historian and art dealer Jan Six.
In 1873 Victor de Stuers wrote a passionate indictment of the way the Dutch authorities treated the country's cultural heritage. In his article Holland op z'n smalst [A narrow (minded) country, DN], Stuer described the depressing frequency with which important art works left the country only to boost the collections of foreign museums, and how wealthy overseas collectors were dominating the art market. Not that it did any good. Some four years later Annewies Van Loon-Van Winter sold her entire collection to Gustave de Rothschild, a clear sign that De Stuer's protestations were not taken too seriously at the time.
The transaction, which included the much-wrangled over wedding portraits by Rembrandt, did, however, signal the start of a private initiative to protect the Dutch national heritage. The Vereniging Rembrandt is with us today. This was a time when art dealers ruled the roost. They emptied the great British stately homes of their treasures and sold them to American robber baron clients like Pierpont Morgan, Frick, Rockefeller, Huntingdon and Kress, making monstrous profits from every deal.
1 Who says they'd fetch €160 million on the open market?
In 2015 the old masters no longer dominate the art market, partly because most of them are in European museums and they never sell. But the main reason for the decline is the thriving market for impressionist and modern art. It would be great if the 19th century American art buyers of old masters were replaced by Arabic, Chinese or Russian art buyers but that is not going to happen. The 31-year-old Sheika Al-Mayassa bint Hamad bint Khalifa Al-Thani is considered today's most powerful art buyer. One of her more famous acquisitions is Cézanne's Card Players (bought for $250 mln) As far as is known, she has purchased not a single old master.
There really was no reason to suppose that scores of non-European buyers were queuing up to make off with 'our' two Rembrandt portraits. It's not unusual for Rembrandts to remain unsold for quite long periods of time. The respected art dealer Otto Naumann took his particular Rembrandt, a portrait of a man dating from 1658, to the TEFAF art fair, the London Frieze Masters and a private showing at Sotheby's in London. Not a single Chinese could be bothered. It wasn't the asking price of $48m dollars that kept buyers away. Modern art works were being sold for similar amounts at the same time.
The only serious private collector interested in Rembrandts is the American billionaire Thomas S. Kaplan (1962). His famous Leiden Gallery is home to hundreds of old masters, seven of which are authentic works by Rembrandt. It is thought the collection cost Kaplan around $500m. None of the works came close to De Rothschild's asking price but then none of his Rembrandts are life-size portraits. I think Tom would have liked to have bought them for his collection but not for €160m.
We can only guess how De Rothschild arrived at his price: I would never venture to name a price if I hadn't seen the works for myself. Incidentally, in none of the known documents has De Rothschild ever felt compelled to allude to possible interest from non-European buyers. This is significant in itself as the family has an extensive network in Arab and Chinese business circles.
But suppose Chinese and Arab buyers were interested. I find it hard to believe that a person willing to spend €160m on the paintings wouldn't take great care of them. I consider China and the Arab Gulf states as relevant guardians of culture. Many privately owned masterpieces are not locked away in safes but are lent to big museums all over the world, there for all to see.
2 A little political distance would have been in order
The way ministers and museum directors have been wrangling over the matter these last few weeks demands an explanation. I don't understand why the culture minister didn't confer with the finance minister. Surely the size of the amount would warrant a closer cooperation between the two. If the director of an independent museum is confident enough to take on what may be an impossible task, it would seem sensible to give him a 'proper' shot at it first. A little political distance would have been in order, especially after the political decision was made to set aside half the money.
How is it possible that the asking price was accepted without question? At this price level comparable cases are few and far between. Do I think the price is absurd? I'm an art dealer and I can tell you that I would have a big smile on my face if I could sell two Rembrandts for such an amount. Trade is trade, after all.
But if a politician uses public money to push through a purchase saying speed is of the essence because 'the works may disappear to a far-away country', then I know I'm being had. Would France really have coughed up €160m if we hadn't made the decision then and there, or would it have changed its mind about the national importance of the works?
There's a good chance the deal would have fallen through, creating an opportunity for De Rothschild to approach the Rijksmuseum without making France look silly. Mind you, the French sat on their hands for 18 months, apparently unafraid of non-European buyers muscling in.
3 Restoration: the French and the Dutch are diametrically opposed about why and how
The restoration policy of the Louvre is diametrically opposed to that of the Rijksmuseum. The Louvre restores its paintings very sparingly (as the extremely mucky state of Leonardo da Vinci's Mona Lisa attests) which means there's a very good chance we'll be looking at a dirty and yellowing Oopjen and Maerten a few years from now. How will the two museums agree on restoration when the time comes? You can't restore half of half a painting.
Whenever I'm in Paris I visit the Louvre. Museums are the best places for an art dealer to check whether his instincts about a possible discovery are correct. But every time I look at a Dutch master I am dismayed at the terrible state of the paintings. Unrestored paintings in damaged frames are hung willy-nilly, covered in dirty layers of varnish. If there were such a thing as a hall of fame at the Louvre it certainly wouldn't include a Dutch master. Everything points to the fact that France's action wasn't inspired by art historical gain but by political gain.
4 How can this be: a contract to subject fragile paintings to a constant to-ing and fro-ing.
The deal – to exhibit the portraits as a pair ensuring a frequent exchange between Amsterdam and Paris – is sure to precipitate the deterioration of the paintings. Of all the Rembrandts only those that have always, or nearly always, remained in private hands are still in very good condition. There's only one reason for this: they have hardly ever been moved. The comparison with the frequent travels of Vermeer's Girl with a Pearl Ear Ring doesn't really hold water. Vermeer's painting is 44.5cm by 39cm whereas Rembrandt's portraits measure 207cm by 132cm! They will certainly be transported in a professional Turtle box but the greatest danger lies with manually taking the paintings down from the wall and mounting them again.
I am an art historian first and foremost. The object comes first. That is why I'm worried. If something were to happen to damage the paintings, and it is statistically certain that something will one day, who will take the initiative to restore them? If the Louvre were to decide the paintings are too fragile to move how are the Netherlands going to recover their 'rightful share'? I have a feeling the Dutch – ever ready to compromise when the French are clearly not – will have to make the French a present of €80m when that time comes.
It's an irony that 132 years after the Vereniging Rembrandt came into being, it – understandably – distances itself from contributing to a possible acquisition of the paintings which formed the catalyst for its inception. The 19th century statesman Thorbecke wrote that buying art was not a matter for governments. What he meant was that governments should facilitate but not intervene.
Now the Rijksmuseum's director's original plan of securing both paintings for the country has been torpedoed I can understand he's not too keen to discuss finance with finance minister Jeroen Dijsselbloem. It's an attitude the outside world might find somewhat impolite considering the minister came bearing an €80m 'present'.
I hope Eric de Rothschild hasn't signed the contract yet. An art loving man like him should know better than to agree to irresponsible decisions. But most of all I hope that on future occasions society and politicians will be informed properly before we all succumb to a collective panic attack and forget to question what is actually happening.
This article appeared earlier in the Volkskrant
Thank you for donating to DutchNews.nl.
We could not provide the Dutch News service, and keep it free of charge, without the generous support of our readers. Your donations allow us to report on issues you tell us matter, and provide you with a summary of the most important Dutch news each day.
Make a donation