10 Dutch football clubs with really ridiculous names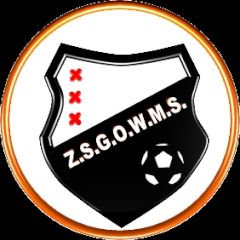 The Dutch, as we know, are a sensible folk. But not when it comes to naming their football clubs. In most countries football clubs have really boring names like Manchester United, Barcelona or Paris Saint Germain. But not so in the Netherlands. Here, names are descriptive. Take Vlaardingen club CION for example. Its name is an abbreviation of Chevron Is Onze Naam  (Chevron is our name) – er, right!
Here is an alphabetical list of professional Dutch football clubs with weird names and one amateur side with possibly the weirdest name of them all.
ADO Den Haag
ADO (Alles Door Oefening or everything through practice) is the main football club in The Hague. ADO has never matched the successes of the other big city clubs Ajax (Amsterdam) and Feyenoord (Rotterdam), although it did win the national title in 1942 and 1943, as well as the league cup in 1968 and 1975. In 2008, the club was bailed out of financial difficulties by the local city council and opened its new 15,000-seat stadium. In 2014 it was bought by a Chinese sports marketing firm.
AZ
Alkmaar football club AZ was formed in 1967 when the professional clubs Alkmaar '54 and FC Zaanstreek merged to create AZ '67 (the '67 was dropped in 1986). The club's heyday was in the late 1970s and early 1980s but it was relegated to the first division in 1988. Ten years later, AZ returned to the premier division, taking the title in the 2008/09 season.
Go Ahead Eagles
Deventer side Go Ahead Eagles have possibly the most romantic name in Dutch football – if you are not into superheros like Ajax of course. The club was founded in 1902 as Be Quick but the name was soon changed to Go Ahead at the request of the Dutch Football Association. The suffix Eagles was added in 1971, following a suggestion from their then coach, Barry Hughes. The eagle part comes from Deventer's coat of arms. Go Ahead are not, however, living up to their name and have been relegated to the first division for the 2015/16 season.
NAC
Breda's football club NAC was set up in 1912 as a merger between NOAD (translated, the letters stand for 'Never Give Up Always Keep Going') and ADVENDO ('Pleasure Through Enjoyment and Usefulness Through Relaxation'). The resulting name was Noad Advendo Combinatie or NAC. Unless you want to write it all out in full – and then you probably have the world's longest football club name. NAC has just been relegated to the Jupiler league
NEC
Nijmegen football club NEC, which has just moved from the Jupiler league to the Eredivisie, was founded in 1900 and claims to be the first in Holland to be set up by workers. Its name comes from Nijmegen Eendracht Combinatie or Nijmegen united combination.
PEC Zwolle
You need your wits about you to understand this one. PEC was founded on June 12 1910 following the merger of two other local clubs – Prins Hendrik and Ende Desespereert Nimmer (And Never Despair). The PH EDN Combinatie became PEC and added Zwolle in 1971. In 1982 it added '82 to the name, only to drop the PEC and the '82 in 1990 when it went bankrupt. The club was relaunched as FC Zwolle and continued on its merry way until 2012 when it won the first division championship and went back up the premier division. Cue a change of name again – the club once again became PEC Zwolle and won both the Dutch KNVB Cup and the Johan Cruijff Super Cup in 2014.
Roda JC
Roda JC is based in Kerkrade in Limburg and was formed in 1962 following the merger of Rapid JC and Roda Sport. Rapid JC, yes, you've guessed it, was formed through the merger of Rapid '54 and Juliana. Roda Sport took its name when clubs SV Kerkrade and SV Bleijerheide merged – but we're not really sure where the Roda bit comes from.
VVV-Venlo
You might be forgiven for thinking the VVV stands for something exciting involving victorie or vooruitgang but you'd be wrong. VVV-Venlo stands for Venlose Voetbal Vereniging-Venlo or Venlo football association-Venlo – just in case you had not got the message where it is.
Willem II
Set up in 1896, the Tilburg premier league club Willem II is one of the oldest football clubs in the Netherlands. It was originally called Tilburgia but was renamed Willem II some 18 months later after the Dutch king of 1840-49 who was a local hero. The club has won the national title three times (1916, 1952, 1955) but done nothing much of note since then.
ZSGOWMS
An amateur side in Amsterdam, the club's name is the abbreviation of Zonder Samenspel Geen Overwinning en Wilskracht Maakt Sterk – Without Teamwork No Victory and Determination Creates Strength. The club was formed in 1996 following the merger of ZSGO and WMS, both of which date back to 1919. The club did not change its name to something more manageable because, according to the website, it can be easily found on internet and is a good advert. But what on earth do the supporters chant?
Want more? There are several websites devoted to mad Dutch football club names. WWNA, VAKO, HS Texas DSZ, Audacia (based on latin) – the list goes on and on and on.
This list was first published on website Netherlands by Numbers
Thank you for donating to DutchNews.nl.
We could not provide the Dutch News service, and keep it free of charge, without the generous support of our readers. Your donations allow us to report on issues you tell us matter, and provide you with a summary of the most important Dutch news each day.
Make a donation