'There isn't much better than a plate of tiny pancakes'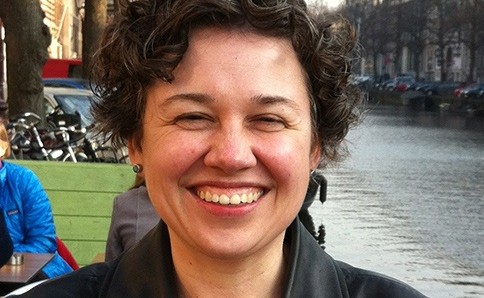 Amy Fuller, 41, is an American who is self-employed and works on process improvement for the payments industry. She has been in the Netherlands for 2.5 years.
How did you end up in the Netherlands?
My partner's Dutch, and we made the decision to move here when her mom was diagnosed with cancer.
How do you describe yourself – an expat, lovepat, immigrant, international, etc – and why?
I guess I'm a mutt: maybe 75% lovepat and 25% expat?
How long do you plan to stay?
I'm not sure, I still feel like we're trying to get settled. Time will tell, I suppose. For now we're renting vs. buying.
Do you speak Dutch and how did you learn?
I'm trying to learn! I would say that I'm a Beginner. Plus, I'm a shy person and I need to get over my hesitancy to speak it. I'm fairly decent at the following topics: work, family, vacation, health and purchasing stuff. That gets me pretty far, actually.
What's your favourite Dutch food and why?
Poffertjes! There isn't much better than getting a plate of tiny pancakes. Also, and this may be somewhat controversial, but I really like Nasi. I was asked this question when I first arrived, and the follow-up question was, 'don't you like potatoes?'
What do you miss about back home and why?
I miss my friends and family the most. I didn't live close by my family, but I was always able to travel home for Christmas, and now it's not so easy. Other things I miss are the humor (sorry – no 'u'; I'm American, remember!), which tends to be more self-deprecating, and the pop culture. Although a lot of shows and movies are available here, some things involving current events I don't catch any more. I tend to be a pop culture junkie, so that's a little hard for me.
How Dutch have you become?
I'm able to carry more on a bike than I ever thought possible! One major shift we've made is cooking at home more. I feel like there is more incentive to eat at home here – grocery staples like milk, bread and eggs are taxed at 6% versus 21% for eating out in a restaurant. Good produce is relatively cheap here. When we went to Canada this summer, we spent a fair amount of time complaining about the price of eggs, etc, relative to the Netherlands. Plus, (and I'm a little ashamed to admit this) I've gotten used to not having to tip in restaurants.
What's your top tourist tip?
Take your time in the Netherlands. Americans, since we have to travel so far to get to Europe, tend to take the 'If It's Tuesday, This Must Be Belgium' approach and see a little of a lot of different countries. Don't just go to the expected destinations like the Keukenhof or the Red Light District; venture out to other places/cities as well. Even though the Netherlands is a small country, it's remarkable how different the regions are – Leeuwarden has a completely different culture than Maastricht, and I would never know that if I hadn't been to both.
Tell us something surprising you've found out about the Netherlands?
The Netherlands, despite being socially quite liberal, also strikes me as being somewhat conservative. I was surprised by stores being closed on Sundays; how much more frugal people are (the word for debt contains the word guilt), and how ingrained some habits are, such as dinner at 6 pm. However, I was able to observe this because we have not lived in major cities, like The Hague or Amsterdam, where the lifestyle is different.
If you had just 24 hours left in the Netherlands, what would you do?
This is a difficult question to answer. I would want to go to the beach, maybe Zandvoort, and then head over to Haarlem, which has a great market, and do some shopping. Then we'd go to Amsterdam, find a nice, not too busy café terrace, get a beer and a plate of bitterballen, and watch the sun set over the canal. Of course in order to do this, the weather would need to comply.
Thank you for donating to DutchNews.nl.
We could not provide the Dutch News service, and keep it free of charge, without the generous support of our readers. Your donations allow us to report on issues you tell us matter, and provide you with a summary of the most important Dutch news each day.
Make a donation