Rise in euthanasia requests sparks concern as criteria for help widen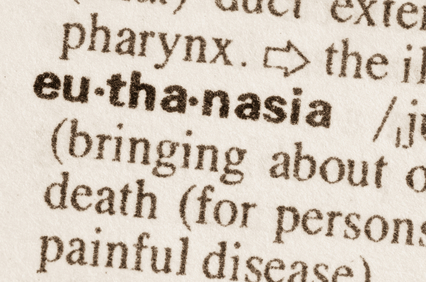 Since 2002, euthanasia has been effectively decriminalised in the Netherlands, as long as certain criteria are met. The Dutch position is considered by many to be the blueprint for other countries struggling with right to die issues. Yet, as Gordon Darroch reports, there are concerns in the Netherlands itself about the rise in the number of cases and pressure on patients

Ruben van Coevorden clearly remembers the first time a patient asked him to help her die. A woman in her 70s who had survived Auschwitz and outlived her husband, but knew she would not overcome lung cancer.
'She was quite clear-headed about it: she felt she had had her share of suffering and was finished with life,' says Van Coevorden, who has a medical practice in Amsterdam's Buitenveldert district. 'But this was in the days before euthanasia. So I gave her some sleeping pills, enough for an overdose, and stood by her as she took them.'
It was to avoid dilemmas like Van Coevorden's that the Netherlands passed its euthanasia law in 2001, becoming the first country in the world where doctors were allowed to help their patients to die.
'Technically, what I did – helping someone to take their own life – was illegal,' Van Coevorden admits. 'And it is still punishable, unless certain specific criteria are met.'
Law
The Termination of Life on Request and Assisted Suicide (Review Procedures) Act which health minister Els Borst steered through parliament, did not legalise euthanasia, but gave doctors protection from prosecution if a patient was suffering unbearably and without prospect of improvement (ondraaglijk en uitzichtsloos).
The doctor must be satisfied that all alternative forms of treatment have been exhausted or discounted, and seek a second opinion from an independent professional, known as a SCEN doctor ('support and consultation in euthanasia').
'It places a very heavy responsibility on doctors,' explains Eric van Wijlick, a policy adviser for KNMG, the Dutch medics' federation. 'They don't do it lightly. As a doctor, you're trained to heal the sick, not to give someone an injection whereby the patient dies.'
In a survey by KNMG, more than half (57%) of doctors who had arranged euthanasia for a patient scored the emotional strain at eight out of 10 or higher. On top of that is the administrative burden: every assisted death case is investigated by one of five regional review committees, who must rule whether the doctor has acted diligently.
All-clear
If not, the prosecution service opens a case file and decides whether to bring criminal proceedings. 'Most doctors only feel comfortable when the letter arrives, months later, from the review committee giving them the all-clear,' says Van Wijlick.
The Dutch approach to euthanasia has become a focal point for the right-to-die debate in other countries and is regularly invoked by supporters and critics alike, not always accurately.
During the 2012 US presidential campaign, the Republican candidate Rick Santorum dramatically claimed that euthanasia accounted for 10% of deaths in the Netherlands, and that half of these were involuntary – the medically-sanctioned murder of elderly patients in hospital. In fact, euthanasia deaths make up just under 3% of the total and doctors need explicit consent from the patient.
A more nuanced objection is that endorsing euthanasia in any form is the start of a process of normalising medically-assisted dying, which will gradually spread into areas currently deemed taboo. Doctors argue that experience has discredited the 'slippery slope' argument: only around eight cases a year out of 5,000 are taken up by the prosecution service, and none has led to a conviction. 'There is no abuse of the system in the Netherlands,' says Van Coevorden.
Rise
What is inarguable, however, is that the number of euthanasia procedures carried out has risen considerably in 13 years. Initially the annual total hovered at around 1,900, but since 2006 it has increased by an average of 15% a year. In 2013 the number of euthanasia and assisted suicide cases stood at 4,829, nearly three times the 2002 figure. Altogether around 38% of requests are carried out and 20% refused, while in other cases the patient either changes their mind or dies before euthanasia can be arranged.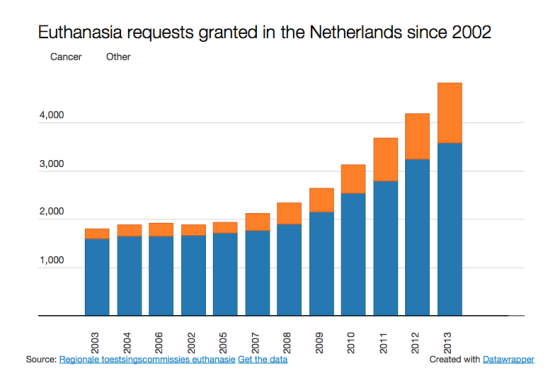 Theo Boer, who spent nine years on one of the regional evaluation committees, sees the rising trend as a cause for concern. Boer, who teaches ethics at the Protestant Theological University in Groningen, argues that the definition of euthanasia in Dutch law is too broad.
'We don't have enough specific criteria in the law,' he says. 'It doesn't make any mention of terminal illness, or illness at all. You could have a situation in the Netherlands where somebody goes bankrupt and, knowing he will never get back up to the same level financially, argues he is suffering unbearably and puts in a request for euthanasia.'
Cancer
When the law came in, the overwhelming majority of those who chose euthanasia – nearly 90% – were terminally ill cancer patients. Latterly the proportion has dropped to nearer 75%.
The parameters are steadily widening: last month the Dutch paediatric association NVK called for the minimum age of 12 to be scrapped, arguing that some terminally ill children under that age are capable of deciding they want to die. Psychiatric patients, once never considered for euthanasia, are a small but growing subgroup, with 42 requests granted in 2013. There has been no fall in the suicide rate, as might be expected: in 2013 1,859 Dutch people took their own lives, an unprecedented number.
'What surprises me is that nobody is making any serious attempt to treat this as a problem,' says Boer. 'It seems inarguable to me that the law has led to a rise in incidences. But nobody seems concerned. Even though palliative care has improved considerably, the euthanasia rate has gone up.'
Right to die
Compounding the issue, says Boer, is the fact that euthanasia, which was originally introduced to protect doctors, quickly came to be regarded as a patient's right. 'The debate has changed. Euthanasia is no longer a last resort. It was originally seen as a law that gave doctors rights rather than patients. But we very frequently hear it discussed in terms of a patient's right to euthanasia.'
Boer argues that patients have become more assertive of their preferred way to die. He has been critical of phenomena such as 'duo-euthanasia', where the partner of a terminally ill patient asks to die with them because he or she cannot face life alone.
'When someone has made up their mind they want to die, the first thing they ask is if the doctor can do it,' he says. And the pressure is not just from patients: 'In some instances there is pressure from the family.'
Asked to specify a figure from the 4,000 case files that have crossed his desk, Boer replies: 'It's hard to say, but at a rough estimate I would say the family is a factor with one in five patients. The doctor doesn't want to put it in the dossier; you need to read between the lines. Sometimes it's the family who go to the doctor. Other times it's the patient saying they don't want their family to suffer. And you hear anecdotally of families saying: "Mum, there's always euthanasia".'
Pressure
The KNMG survey appears to give substance to Boer's fears on this point: it found that 70% of doctors who replied had felt under pressure to grant euthanasia, while 64% believed the pressure had increased in recent years.
The survey did not ask where the pressure came from. Van Wijlick says it is difficult to judge without hard evidence whether there is a problem: 'We've been aware since the early 1990s that pressure is an issue. It would be helpful to do some research into what kind of pressure there is and where it comes from.'
Van Coevorden believes Boer's figure of one in five is 'realistic', adding: 'I've come across it two or three times in my role as a SCEN doctor. There was one case where a woman was dying and had terrible stomach pains, her doctor was tearing his hair out, and when I turned up at the house the family practically pinned me to the wall and said: "You need to give mum the jab now, she's in agony!"
'I discovered that her treatment wasn't working, she was on the wrong type of laxatives and was terribly constipated. I organised a palliative regime that made her more comfortable, and afterwards the family were extremely grateful. She was close to dying anyway, but it allowed them to say goodbye in a better way.'
Van Wijlick argues that the increase in euthanasia deaths shows the system is working. 'Doctors see from experience that if they follow the procedure, they won't have difficulties, and they feel reassured. That shouldn't obscure the fact that doctors find it very hard to carry out. On average they do it once or twice a year and it's very stressful.'
Ageing population
Van Coevorden believes the rise in the number of euthanasia cases is partly due to the ageing population. He acknowledges the criteria have widened, but not always in a negative sense, citing the example of a patient in his seventies who had noticed the early signs of dementia. 'He could have lived several more years, but he'd seen his father decline and didn't want to go the same way. He had no prospect of relief so he asked me for euthanasia and I agreed. It was clear to me he'd considered it thoroughly.'
What concerns Van Coevorden more is that patients reach for euthanasia too soon. 'We've developed this idea that death can be arranged, but there are other ways to take the pain out of dying, such as palliative sedation, where death occurs naturally. Euthanasia is really the ultimate form of palliative care. But it's a conflict of duties – the duty to care for a patient versus the duty to prevent their suffering. And it should only be for those exceptional cases.'
He says the Dutch euthanasia law has its roots in the country's pragmatic instincts. 'We're sober-minded and Calvinistic people, we've taken the attitude that "this is happening anyway, let's regulate it". Dutch doctors don't have to fear repercussions, they can't be blackmailed, it's dealt with openly. We don't have the kind of situations you get in America.'
Global issue
Van Wijlick agrees: 'In every country in the world doctors are confronted with the same problem, but there is no way to check if the doctor has acted diligently. We have a transparent system that can accommodate the various different points of view. That's its strength. The doctor is never obliged to grant euthanasia: the patient has to convince him, and he has to be convinced.'
But Boer strikes a more sceptical note. Though he supports euthanasia in principle and has endorsed thousands of cases, he argues the boundaries should be tighter. 'If back in the 1990s we had had the quality of palliative care and pain relief that we have now, I doubt whether we would have accepted this euthanasia law at all,' he says. He regards the law being proposed in Britain by Lord Falconer, which would allow euthanasia only where a patient had a terminal illness, as a better option.
'We made a number of serious mistakes when we drew up the law,' says Boer. 'The problem with being the first country is that you have no precedent. It's good on some points, such as transparency and evaluation, but in general it's nothing for us to be proud of. I worry that if death is seen too quickly as the solution, the value of life is reduced.'
Thank you for donating to DutchNews.nl.
We could not provide the Dutch News service, and keep it free of charge, without the generous support of our readers. Your donations allow us to report on issues you tell us matter, and provide you with a summary of the most important Dutch news each day.
Make a donation