How to plan a cycling city: university summer school course is a big draw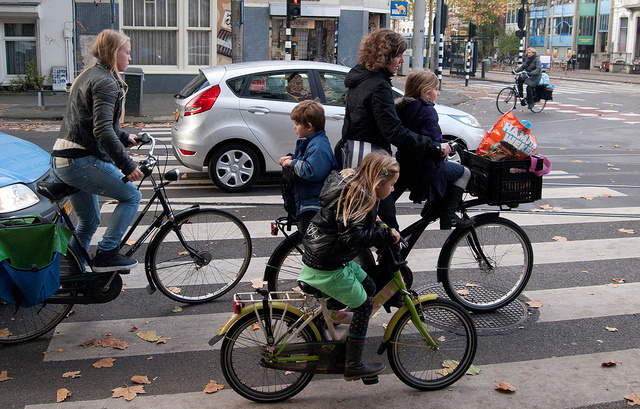 Amsterdam is known the world over for its bikes and its cycling population. Esther O'Toole visits a unique summer course at the University of Amsterdam that seeks to give students insight into the world of Dutch cycling.
The University of Amsterdam has been running summer courses for nearly 20 years. However, this is the first time that they have run a Planning the Cycling City course, which looks at the history, policy, infrastructure, planning, and culture of urban cycling in the Netherlands.
Amsterdam is the world's cycling capital, so you would think that it would be obvious that folks from abroad should want to look into the reasons behind the thriving 'on yer bike' lifestyle of the Dutch.
For the Dutch though, for whom cycling is as natural as breathing, that interest is not so immediately apparent.
As Mirjam Schieveld, the programme director at the Graduate School of Social Sciences summer programmes office, explains: 'For us it's a lot like being fish in a bowl. We're used to it. Lots of visiting students come to do research here though and many chose to look at cycling in Holland. So that's where the idea for this course came from.'
Popularity
According to 2014 figures from the World Health Organisation, one-third of trips made in Amsterdam are by bike, by far the highest percentage in Europe.
The WHO report estimates 1,600 jobs are connected with cycling in Amsterdam – from bicycle retail and maintenance, the provision of clothing and accessories for cyclists, urban development and developing new mobility schemes.
Last year, the city council agreed to spend €120m in improving facilities for cyclists, of which €90m will be spent on 40,000 new bike parking places. The city's current bike path network is under pressure and efforts are being made to find new ways to cope with the sheer number of cyclists and bikes.
No wonder, then, that the cycling city course has proven enormously popular and all 30 places were quickly taken. The university has already confirmed the course will be back in 2016.
Status
Brett Petzer, 29, an urban planning masters student from Cape Town, South Africa, was particularly interested in the cycling culture here. Back home, he says, cycling is intrinsically linked to status.
In South Africa 'captive cyclists' are the bottom of the socio-economic ladder, having to use bikes by necessity. The middle class, by contrast, can afford to live within cycling distance of city centres and go biking for leisure. As such bikes become a status symbol.
'When I come here it's a different universe. I'm really interested to find out how cycling is linked to Dutch identity.' Petzer said.
Context
By contrast, Cosmin Popan, 34, originally from Romania but studying for his PhD at Lancaster University in the UK, wants to use his social science background to shake up urban planning. He's determined that cycling should be looked at in a broader context.
'Often cycling is looked at very narrowly,' he says. 'I want to know what other things make people choose it other than economics and time efficiency. Too often planners and engineers have the last word and I think that needs to be challenged.'
Other students, such as Marin Hara, a 22 year old undergraduate from Tokyo, Japan,  is simply 'looking for inspiration' for the next phase of her studies.
'Everyone is super passionate. I'm really impressed,' she says.
Dynamics
In the first days of the course students have started to get a tangible feel for the subject with a hectic ride from their residence to class and 'rush hour' observations outside Amstel station. In the days to they will look at system's dynamics, land use, network analysis and public space in relation to cycling.
The UvA's summer courses are a chance for the university to both promote itself on the global academic stage and to give those visiting a good idea of what it's like to live and study here. Many return to take up full time places on other courses as a result.
There has traditionally been an emphasis on including subjects that the Dutch have a particularly strong record in with topics such as Sexuality & Politics (sodomy laws were first repealed here in 1811 and Drugs Policy & Addiction Management (soft drug legislation first came into effect in the 70's).
Cycling course leader Marco te Brӧmmelstroet issued a disclaimer at the outset telling participants not to 'expect a silver bullet'. There is no one solution for them to take home and apply to their own cities, he said. Cycling in the Netherlands has been an evolution
'There was no plan, no cycling advocacy groups; it came piecemeal in the beginning,' he told his students.
There was also a warning – once the course has been completed, Te Brӧmmelstroet said, you will never look at cycling the same way again.
Thank you for donating to DutchNews.nl.
We could not provide the Dutch News service, and keep it free of charge, without the generous support of our readers. Your donations allow us to report on issues you tell us matter, and provide you with a summary of the most important Dutch news each day.
Make a donation