Food banks are helping to make support for the poor a matter for charity again.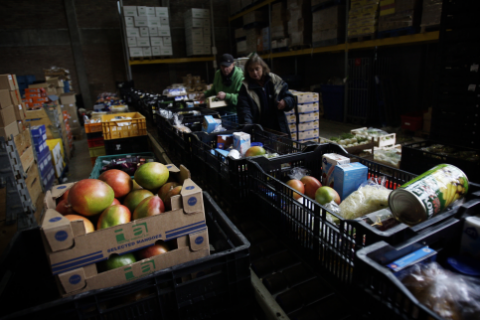 The government is no longer seen as a protector of the vulnerable. Are initiatives like food banks turning the poor into charity cases again? asks Socialist Party council official Peter Verschuren.
The economy is growing but the number of people depending on food banks has risen by 11%. It's not really surprising. The next few years will see an increase in people who need a food handout, even if the economy grows faster than expected.
In 13 years food banks in the Netherlands have developed into a well-organised business with almost 10,000 (unpaid) staff, 157 branches, eight distribution centres and an impressive fleet of cars.
And although food banks profess their goal is to become superfluous to requirements as soon as possible, it is likely that, like any organisation, they will want to survive. Apart from this there are other, concrete developments which will lead to a more permanent presence of food banks.
Easy
It is becoming increasingly easy to go to a food bank: local tv campaigns are highlighting their existence and break the taboo of having to ask for food. Local councils and aid organisations are referring more people to food banks than ever. A growing number of people are financially eligible for help from food banks.
There is plenty of potential for growth: some 40,000 households are currently dependent on food banks and some 450,000 households struggling with debt. A large number of these households are paying off that debt and are left with an income that makes them eligible for food handouts.
Adjustment
The food banks haven't adjusted the income required to qualify for help for years because of a lack of food to give away. Food bank organisation Voedselbanken Nederland, which is supported by almost all local banks, would like to increase its number of clients. If enough food becomes available, chairman Leo Wijnbelt would like to increase the number of poor who come to the food banks from 4% to 20%.
The need for food handouts will remain high in the coming years: the economy is doing better but minimum incomes are not. Between 2011 and 2014 the amount of money a family on benefits was left with at the end of the month went down from plus €62 to minus €50. It is not likely this development will be stopped. On the contrary: rents are going up and benefits for one-parent families have been cut by €45 from this year. That's another group which will qualify for the food bank.
Times
Another important reason why food banks and other private initiatives to combat poverty are here to stay is that they fit in perfectly with the times. The government is no longer seen as a provider of solutions to society's ills, or the protector of the vulnerable.
Instead of trying to pressure the government into organising solidarity drives, citizens now offer their services to food banks or organise their own drives. 'Create your own solidarity' the slogan reads on the website of Steungezin.nl, a charity based in Breda which couples poor families with rich ones in the same town.
Everyone involved means well and help is – unfortunately – very necessary. There's a 'but', however. How about security and equality in law? In 1965 the explanatory memorandum of the General Social Security Act stated that 'financial support has been removed from the realm of charity to become a right'. In 2015 it is well on the way to becoming a matter for charity once more.
Peter Verschuren is an alderman for the Socialist Party in Hoogezand-Sappemeer.
This article appeared earlier in the Volkskrant.
Thank you for donating to DutchNews.nl.
We could not provide the Dutch News service, and keep it free of charge, without the generous support of our readers. Your donations allow us to report on issues you tell us matter, and provide you with a summary of the most important Dutch news each day.
Make a donation