TU Delft sells science with sexist stereotypes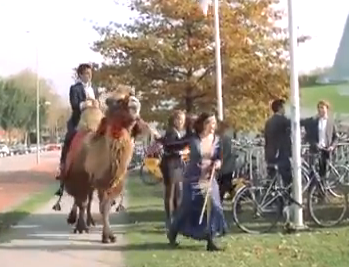 Is a sexist flash mob video the best way to encourage links between industry and universities? Delft University of Technology chemistry Phd researcher Aldo Brinkman doesn't think so.
Delft University of Technology has an official Facebook page and earlier this month it endorsed a video aimed at technical studies students. Not only was the video shot on campus but it was 'powered by the TU Delft'. Screaming blondes, a biker girl in lingerie and a fake Arab with a camel. Is this really the way we should be promoting ourselves?
The two-minute video at first appears to be an amateur video of a flash mob. But in fact it is a small-minded white guy approach to humour promoted by a university that is struggling to get more women to attend.
Sure, the acting is so-so and flash mobs are outdated and were popular years ago. That's okay. The real issues start with the questionable choice of a male hero. This is a university of technology we're talking about. It is a very real problem that so few girls choose a scientific or technical career and loads of money is being spent on turning this around.
Female scientists
There are tons of awesome initiatives like 'Girls in IT Day' being organised, pushed by my favourite European politician Neelie Kroes, to try and get more girls to study technology. I understand that students directed this video and it is not on their political agenda to promote female scientists. But the fact that the powers-that-be have endorsed it: that is a real issue.
So we have our hero, and then there are his fans. All girls. Blonde girls. They shriek and shout. Mindless blonde girls that are attracted to a successful guy. And then we have a female biker who crosses the set — a sexy chick in very revealing lingerie. A see-through corset and a string bikini. It is hard to see what her role is, unless this is how the producers think they can make this video go viral?
In fact, what we have is a 1970s hetero advertisement — the video equivalent of the calendar on the garage wall. They are selling a product — TU Delft, rather than an electric drill — using girls and lingerie at a university where, of course, no one is gay/lesbian/bisexual/trans/queer/etc.
Besides the sexism, there's also racism. It starts with a predominantly all-white cast and it continues with a (fake) Arabic woman leading a camel. The people in the video can laugh about it, but I'm not sure whether I'm more confused about the presence of the camel or the stereotype. Have the directors of this video forgotten one in five students at TU Delft come from a foreign country?
I believe that success is measured by the amount of people one can make happy. Or maybe the number of patients you cure or animals saved from extinction.  Or anything along that line. But money, hot girls and expensive cars do not distinguish a successful person.
Moral agenda
Here we are with a university that has trouble attracting girls, in a country that has Black Pete on the moral agenda, in a world dominated by sexism, racism, apartheid, suppression of non-heterosexuals and more. And my university is promoting the notion that white, heterosexual men are the archetype of success, whereas women and people of colour only serve to underline his accomplishments.
I don't get it and I really would like someone important from the university to explain it to me. He (!) must take a good look at himself. Any comment such as 'This innocent video was produced by students and does not reflect the world view of our university' just won't do.
Next time I'm at maths camp, the few girls that do show up will wonder why the boy-girl ratio is all messed up. And if they ask me why that is, I don't want to give them some political nonsense answer. I'll give them a real answer.
This promotional video is participating in a world view in which women are inferior, and the rulers are all blond, hetero and sexy. My university should know better than to support that view.
Aldo Brinkman is a Phd researcher at Delft University of Technology and science writer.
Thank you for donating to DutchNews.nl.
We could not provide the Dutch News service, and keep it free of charge, without the generous support of our readers. Your donations allow us to report on issues you tell us matter, and provide you with a summary of the most important Dutch news each day.
Make a donation