Thou shalt live a healthy life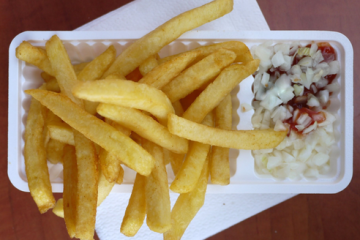 The government is telling us to lead healthy lives but who handed over the pulpit to the authorities? Mind your own business and let people worry about their own salvation, says Patrick van Schie.
Not a week goes by without some newspaper article telling us that scientists have found that a certain food is harmful – or beneficial – to our health. The effects of exercise – how much, what type – are also explored in detail.
Those who want to live healthy lives apparently should never skip breakfast (with plenty of roughage), walk or cycle to work, take the stairs instead of the lift and – in case of a sedentary existence – stand up every now and again or go for a little walk, eat a varied diet, lunch on a fruit salad, limit snacks to apples or kiwis, fill their plates with vegetables and a tiny amount of lean meat or oily fish, play sports or take up gardening in their free time, drink at least 1.5 litres of water a day, suppress cravings for crisps by eating celery sticks, go to bed before midnight and sleep 7 to 8 hours.
Commandment

This constitutes a healthy lifestyle and those who want it are, of course, welcome to it. But are the rest of us allowed to stray? What if we hate carrot juice and veggi burgers and drool over crisps and a juicy steak? Is that a sin? Are we sinning against the commandment of Thou shalt look after thine health?
It seems that many scientists and politicians think we are. They know what is good for the people of this country and while everyone is free to make unhealthy food choices such behaviour should really be discouraged. For our own good, of course.
Nudging
This is where nudging comes in. Nudging means that instead of telling people how to behave, 'good' behaviour is rewarded and 'bad' behaviour punished. The government could, for instance, reward (subsidise) the production of what are considered healthy greens and punish (tax) the purchase of unhealthy foodstuffs.
The quasi-neutral WRR (Scientific Council for Government Policy) has shown itself to be an enthusiastic adherent of the concept of nudging. It is recommending a policy which gives citizens an illusory freedom of choice, all the while pushing them in the direction scientists and politicians feel is best.
Proof?
Real scientists know that findings don't necessarily hold up. Today's healthy food could end up on tomorrow's strictly forbidden list. Many of these findings are based on questionable research methods (using very small test groups, for example).
Often only the slightest of statistical links is 'proof' enough. We are told that eating a certain food will increase our chances of getting cancer/having a heart attack by 20%. Of course, that doesn't mean all of us. There are individuals who despite a big intake of fat and alcohol manage to live to a ripe old age without being struck down by anything major. A citizen is not a statistic, something politicians tend to forget.
Gourmet
But nudging presents a far more serious problem: it undermines the freedom of the individual to determine what to him constitutes the good life. That choice may very well increase a person's  chances of dying prematurely but perhaps he prefers a (shorter) life of gourmet pleasures to the ascetic lifestyle.
It's up to him, after all. Can he please make this choice without being admonished by the government and punished with extra taxes? An adult person shouldn't be talked down to by the authorities.
Once upon a time the church told people how to live. Do as we say and you will save your eternal soul, it said. Liberals argued that it is up to citizens to decide what and if they believe, and that everyone should be entitled to live by their own convictions as long as they can do so without harming others.
Isn't eternal salvation a far bigger issue than the alleged health effects of certain foods on our temporary life on earth? And if we agree that citizens are masters of their own personal salvation, why should we allow politicians to climb into the pulpit and decree what we should and shouldn't eat?
 
Patrick van Schie is an historian and director of the VVD think tank Teldersstichting. He wrote this column in a personal capacity.

This article appeared earlier in Trouw
Thank you for donating to DutchNews.nl.
We could not provide the Dutch News service, and keep it free of charge, without the generous support of our readers. Your donations allow us to report on issues you tell us matter, and provide you with a summary of the most important Dutch news each day.
Make a donation