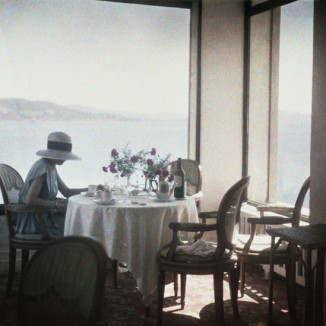 The French photographer Jacques Henri Lartigue (1884-1986) was known for his photos of automobile races, planes, animals and people, in colour and in black-and-white. He took his first photo at the age of eight and his last in 1986 at the age of 92.
Lartigue photographed his friends and family at play – running and jumping, racing home-built race cars, making kites and gliders, and climbing the Eiffel Tower. He also photographed sport events, such as the French Grand Prix, and the early flights of aviation pioneers such as Louis Blériot and Roland Garros. He also captured tennis players such as Suzanne Lenglen at the French Open.
He was friends with a wide selection of literary and artistic celebrities such as Pablo Picasso and Jean Cocteau, and worked on the sets of film-makers such as Abel Gance and Federico Fellini. Many of these celebrities became the subject of his photographs. Lartigue, however, photographed everyone he came in contact with, including his three wives, and his mistress Renée Perle.
The exhibition of a large number of his photos provides a wonderful illustration of life in France during the 20th century.
(Photo: Bibi au Restaurant d'Eden Roc Cap d'Antibes, 1920 1965 Photographie J. H. Lartigue © Ministère de la Culture – France / AAJHL)
Foam, Amsterdam until April 3.