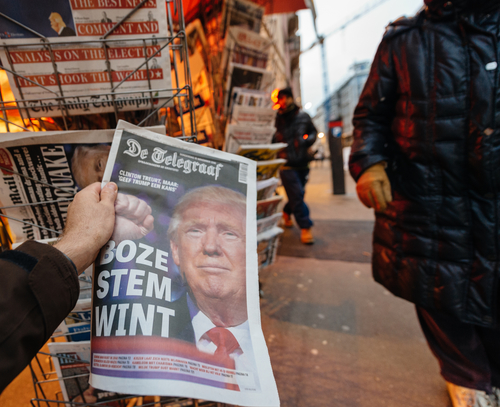 The unexpected truce between Mediahuis, the Belgian-based owner of the Telegraaf, the largest daily in the Netherlands and Talpa, the investment vehicle of Dutch media tycoon John de Mol is a 'win win' situation for both parties,' opined the Financieele Dagblad on Monday.
Things were different back in March when the two companies were fighting tooth-and-nail in the Amsterdam company court for the paper and other Dutch holdings in the Telegraaaf Media Groep. At that time, TMG was the sole Dutch owner of a major Dutch newspaper.
Talpa officially dropped its bid for TMG in early August. However, De Mol retained his 29.16% stake in the group. Mediahuis had held a 60% majority stake in TMG for some time, backed by the Dutch Van Puijenbroek family which is a long-term TMG shareholder.
DeMol/Talpa have said they wanted to merge their radio and television interests with TMG to create an 'independent Dutch multimedia company'.
But now the new MTG majority shareholder has reached a peace accord with Talpa. Assets were essentially restored to each company – with Mediahuis buying Talpa's shares in TMG and selling back its stakes in Talpa ventures for a 'slight' profit. Perhaps more importantly, Mediahuis and Talpa agreed to leave the way open for further cooperation.
Now that Mediahuis owns more than 95% of TMG shares, the company will certainly be de-listed from the bourse. And De Mol now has more control over his own media interests.