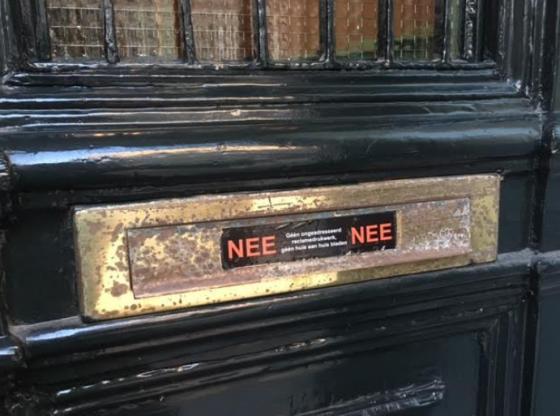 Amsterdam households will no longer have to deal with unwanted advertising leaflets in their letterboxes from next year, thanks to a court decision.
From January 1, delivery firms will only be allowed to put advertising material through letter boxes with a 'ja, ja' sticker on them. Currently householders can put a 'nee, nee' or a 'ja/nee' sticker on their door, indicating they do not want advertising material and/or free newspapers delivered.
'You can put your 'no, no' stickers out for recycling,' the Amsterdam court said, announcing its decision.
Amsterdam council has campaigned for the introduction of an opt in system for advertising leaflets but three companies took the issue to court. They claim the current opt out system works well and said shops and other businesses would suffer if advertising material is banned unless households expressly say they want to receive it.
'Those who want them, can still get advertising leaflets,' alderman Abdeluheb Choho said after the verdict. 'But by turning the system around, we will save a forest of unread paper.'
Amsterdam is the first council in the country to introduce the 'ja, ja' sticker and hopes to save 1.8 million kilos of waste paper a year.