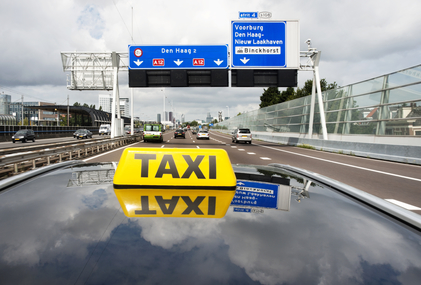 The enormous growth in the number of taxis in the Netherlands is causing traffic chaos in the large cities, taxi drivers' lobby group KNV told the Telegraaf on Wednesday.
'Measures to eliminate the congestion are badly needed,' KNV secretary Hubert Andela said. His comments follow the publication of a new report by national statistics office CBS which said the number of taxi firms in the Netherlands have almost doubled since 2015.
The CBS said four out of five of the new taxi firms were one-man operations who drove for new online providers like Uber and Abel. Most of these are located in Amsterdam.
On October 1 there were 9,000 taxi companies in the Netherlands, a 50% increase in taxi numbers over the past two years. Regulations have been simplified and drivers no longer need a permit so that it is easier to be a self-employed taxi driver.
Taxi Centrale Amsterdam, one of the eight authorised taxi companies in the capital, said the number of taxi drivers in the city has doubled to 5,000 in five years. 'There are only 700 taxi stands in Amsterdam and that number is declining. Streets are being almost blocked by taxis just riding around,' a TCA spokesman told the Telegraaf.