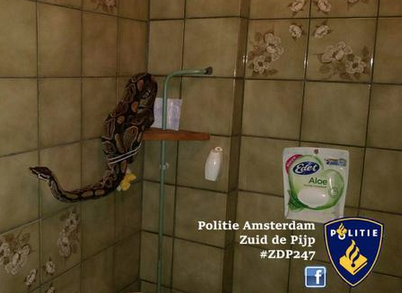 No-one has yet come forward to claim the 1.5 metre python found in the toilet of a flat in Amsterdam just before the Christmas break, the Parool said on Tuesday.
The snake was found curled around the pipes by 82-year-old Bep de Ruijter-Helsloot after her son dropped her off at home following a day out. 'My first thought was "it can't be real",' De Ruijter told the Parool. 'But then I looked a little closer and realised it was.'
She closed the toilet door, sat down for a few minutes to recover from the shock and then phoned her son. He turned the car around, drove back to his mother's house and called the police.
A team of police officers soon turned up and took a picture of the snake for Facebook  in the hope that the owner might recognise their pet.
Mystery
So far no-one has come forward, Rob Dumont of the reptile rescue centre Zwanenburg told the paper. Every year six to eight pythons are brought to the centre and very few are ever claimed, he said.
'You can buy a python like this for €10 but if you come here to pick up your missing one, you have to pay for the animal ambulance which brought it here, and that is €55,' he said.
The python at the centre of the mystery has obviously been well cared for and De Ruijter agrees it is a fine looking animal. 'But that does not mean I want it in my toilet,' she told the Parool.