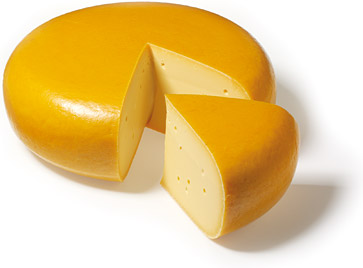 The weight of cheese stolen from dairy farms in the Netherlands last year was around 8,500 kilos, with a value of €90,000, the
NRC
says on Friday.
At the end of last year it emerged cheese had been stolen from three dairy farms in Brabant. However, the NRC has indentified a further six cheese heists, including the theft of 200 cheeses from a farm in Gelderland, with a value of €25,000.
Cheese has to ripen for at least 10 months before it can be categorised as 'old', when it is most valuable. The loss of the cheese has had a serious impact on the farms, which have their own pool of dedicated customers, the paper says.
Eastern Europe
The farmers themselves suspect the cheese has ended up in eastern Europe, although there is only anecdotal evidence of this.
Cheese traders have been alerted to be on the look out for the stolen dairy product. Each wheel is stamped with a serial number.
'It's speculation, but I think they have gone to the Russian market,' Irene van de Voort, chairman of the farm dairy board, told the paper. 'Not much cheese is being sent there because of the boycott. It's a rare product and that drives prices up, so would explain the current spate of thefts.'