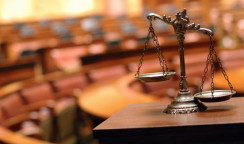 The Dutch secret service AIVD continues to break the law by eavesdropping on lawyers without a permit, the Telegraaf reports on Tuesday.
The latest case came to light in a briefing to parliament from home affairs minister Ronald Plasterk. In it he detailed a complaint by Rotterdam lawyers Seebregts & Saey who say their telephone conversations and emails with clients had been intercepted by the AIVD.
In July, a court in The Hague ruled the AIVD may not tap lawyers' telephones or emails unless it has shown there is a direct danger to national security and been given permission by an independent body.
According to the security services watchdog CTIVD, in 'most of the Seebregts & Saey cases' the national security assessment was not made and the AIVD acted  'improperly'.
Third complaint
Seebregts & Saey is the third legal practice to complain about eavesdropping by the AIVD. André Seebregts, who has terrorist suspects among his clients, told the Telegraaf that he always takes into account the fact that the AIVD may be listening in.
The July ruling said the AIVD has six months to officially change its current practices and warned that if the AIVD does not comply, it will be banned from tapping lawyers' phones altogether.