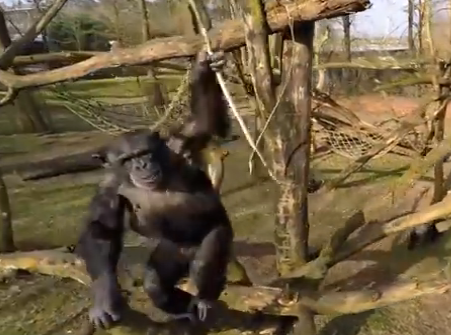 Officials at Burgers Zoo in Arnhem found out to their cost how intelligent chimps are, when one knocked a drone which was filming the apes' enclosure out of the sky.
The drone was being used to make footage for a television programme but did not go down well with one of the inhabitants. Once the drone had been spotted, the primates armed themselves with long sticks, the zoo reports on its website.
One chimp, a 23-year-old female called Pushi, was sitting in a high tree when the drone came buzzing by.
She managed to swipe it with the stick, causing it to fall to the ground. The chimps then proceeded to dismantle the spy plane, which kept on filming during the process, the zoo said.
Zoo spokesman Bas Lukkenaar told USA TODAY Network it was no surprise that Pushi was the 'main perpetrator'.
'Some are good at throwing and others only produce poor shots and Pushi is a very clever and capable chimpanzee,' he said.