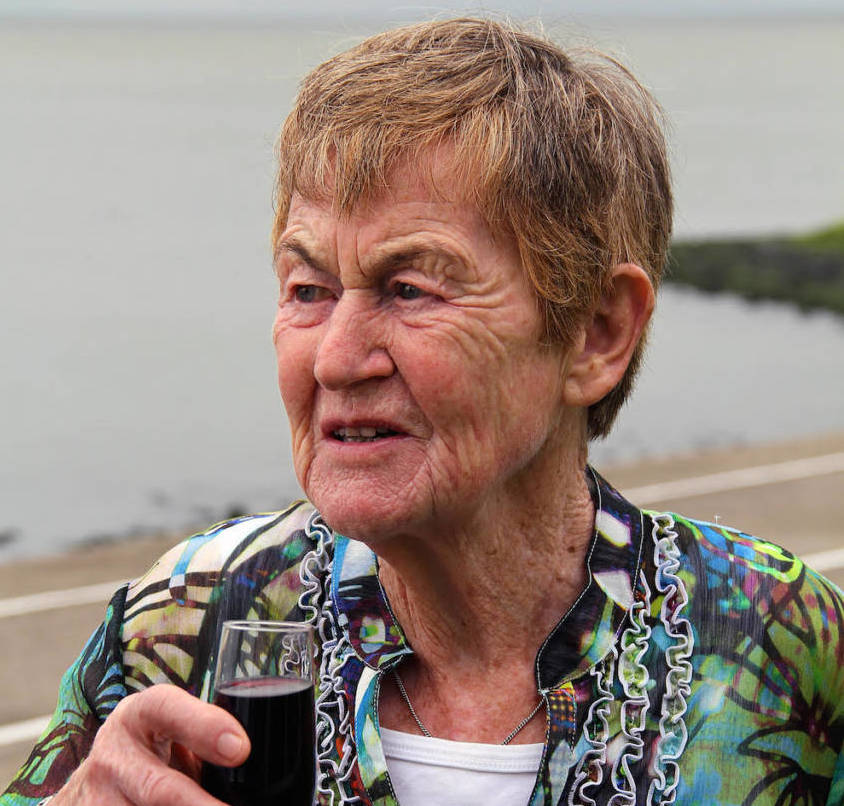 Aileen Enda Jansen Dawson, 83, will be spending her 59th Christmas in the Netherlands this year. She moved here in 1959 to marry a Dutchman she met while working at a hotel in Germany. Now widowed and with four sons, she still gets het and de confused, has learned to eat Dutch vegetables and knows every museum in Amsterdam.

How did you end up in the Netherlands?
I was doing hotel management at a hotel in Ireland. It was a six year course and for the final year we had an exchange system with either Germany or Switzerland. I ended up working at a family hotel in Heidelberg with a friend. I was 21 and she was 20. The local paper wrote about us when we left for Germany because we were sort of trailblazers.
My future husband was studying at the hotel school in The Hague and he and a friend were also working at the hotel. So you can tell what happened. When I told my family I was going to marry my Dutchman, my father said 'not only is he a Protestant but he's a bloody Orangeman'. Once he got to know him, they got on famously. After a year in Heidelberg, I applied for a job in Amsterdam and eventually found work as waitress in the Carlton hotel. In April 1959 I had known him for exactly two years and we got married. When he died, we had been married for 58 years.
How do you describe yourself – an expat, lovepat, immigrant, international?
I always say I am Irish and I'm Dutch. When I went to a reunion at my school, they asked me what nationality I was and I said I am Irish and Dutch. The girl taking my details said 'thank god you said it that way round'.
How long do you plan to stay?
I hope I stay here until I die. I love it here. I've only lived in Amsterdam for a year. We moved to Den Helder after my husband took early retirement because we both wanted to live on the coast. When my husband died my sons helped me move to Amsterdam.
Do you speak Dutch?
My Dutch is anything but perfect. I speak it fluently but I still don't know the difference between de and het. But it makes no difference to me whether I read Dutch or English. We spoke English at home when the boys were little but people used to laugh at them because they would say shampoo not champoh and jam rather than sjem. I still do.
What's your favourite Dutch food?
In the beginning I thought it was terrible. I was used to having a hot meal at lunchtime not bread and milk. We'd eat broad beans and I thought they were absolutely awful but I said to myself I would have to get used to them because I am going to live here. Endive, I hated it.
Stokvis was made from dried fish and rice and potatoes with sauce. My mother came to stay and I made it for her and she told me she ate something like it as a child in Ireland. Another thing we ate was blote kindertjes in het gras – white beans with salted French beans. I got into the local cooking because I had to. I knew I was going to stay here.
How Dutch have you become?
I'm still Irish but I would not go back to live in Ireland. It's changed too much. I used to go a St Patrick's Night before my friend died. When the children were small we did Sinterklaas and we always celebrated Christmas. I never watched football apart from when Ireland was playing. My husband always called me for the national anthem. If you ask me who I would want to win, I'd say Holland because my husband was Dutch, as are my four sons.
Which three Dutch people (dead or alive) would you most like to meet?
Vermeer. When I was at boarding school I can remember one of the nuns saying to me that a painting on the wall – it was The Milkmaid – was a reproduction of famous painting and that one day I might see it for real. The first time I saw it in real life I bought a postcard of it and I sent it to the nun.
I was also very fond of prince Claus even if he was German. I couldn't care less. I think nationalities should mix.
I've just been at an exhibition at the Amsterdam Museum on 1001 emancipated women. It's marvelous, definitely worth seeing. There was a Dutch woman, a runner called Fanny Blankers-Coen. My brother used to call her 'Flying Fanny' and always wanted to meet her. I saw her once in the Amsterdamse Bos when my son Dolf was running and I wanted to say hello to her and get her to sign something, but I never did. The shoes she used to run in are in the exhibition.
What's your top tourist tip?
I know every single museum in Amsterdam, whether small or big. I've visited them all several times. I am a real museum person. The Willet Holthuysen and the Van Loon museums are beautiful houses on the Herengracht. and you've also got beautiful churches, like the Nicolaaskerk by central station and the Papegaai in the Kalverstraat. I've got plenty of time to visit them. I walk everywhere.
Tell us something surprising you've found out about the Netherlands
When I first lived in Amsterdam I thought the people were very friendly. I tried to speak Dutch but of course I had a terrible accent and they used to say to me 'maar jij ben geen Amsterdamse'. They didn't tell me I was a foreigner, but that I was not from Amsterdam and I liked that. In Den Helder, however, they would tell me I was not Dutch.
If you had just 24 hours left in the Netherlands, what would you do?
Go with my children and my grandchildren and their wives for a meal somewhere by the sea. We'd walk to the beach and then all eat together. The sunsets here are beautiful.
Enda Jansen was talking to Robin Pascoe
Thank you for donating to DutchNews.nl
The DutchNews.nl team would like to thank all the generous readers who have made a donation in recent weeks. Your financial support has helped us to expand our coverage of the coronavirus crisis into the evenings and weekends and make sure you are kept up to date with the latest developments.
DutchNews.nl has been free for 14 years, but without the financial backing of our readers, we would not be able to provide you with fair and accurate news and features about all things Dutch. Your contributions make this possible.
If you have not yet made a donation, but would like to,
you can do so via Ideal, credit card or Paypal.