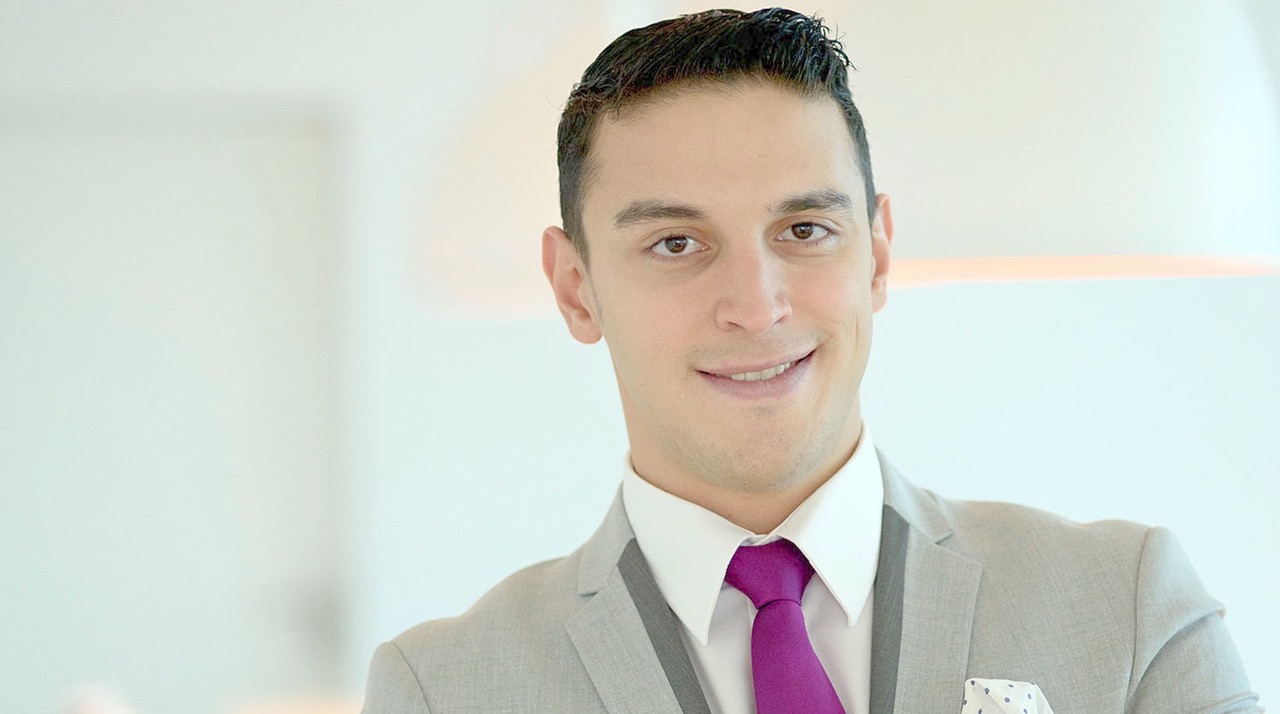 Jordanian Moayad Abushokhedim is a trained food scientist who has embarked on new business adventure using recycled food waste to create chemical-free additives in the Netherlands. Based in Rotterdam, he has learned to ride a bike and has become Dutch enough to go for 'buy two, get one free' offers in supermarkets.

How did you end up in the Netherlands?
I moved in November 2015, from Jordan — well, I moved to Spain first, and from Barcelona I moved to the Netherlands. I did my internship [in Barcelona] in food science, but I was more specialised in food science technology. Ferran Adrià—he's a really famous chef, the most famous chef in Spain when it comes to food science and gastronomy—he trained me for three months.
In Rotterdam, the Netherlands, the whole aim was to start my own company. I moved here because it's a great place for business, and, mainly, because I could work in English. I came with lots of ideas—I've been working on my ideas since I was 16. I started my first company in 2015 [Blazing Sorbets]. I created a new fermentation process using zero sugar, and created the world's first pure frozen alcohol. We developed this product to be made as a cocktail. It was hugely successful. We sold almost 600,000 units to Ibiza in one summer.
The new idea is the biggest project I've undertaken yet. For me it means a lot, because I have a personal thing regarding this: based on research, chemical additives can cause cancer. So I kept researching for six years, until I discovered a method to create chemical-free additives and sweeteners. But not only that, I was able to extract the additives from fruits and vegetables. We buy food waste from farmers and supermarkets, and we convert them.
We really rely on the circular economy. We produce our own energy at the office, with a solar system, completely.
How do you describe yourself – an expat, lovepat, immigrant, international etc – and why?
Well I would definitely consider myself an expat, because I moved to this country with an aim of making my dream come true, not to stay forever, so I still say this is not yet my real country. But who knows what could happen in a few years? I don't know what life will bring me—I'm 24 and life is still ahead of me.
How long do you plan to stay and why?
I am still open-minded. I want to stay until I can make my company successful, because this project is really huge. By the way, we're also opening in the UK and in Sweden using the same methodology, it will happen in 2019. We already have funding from Sweden and from the government in the UK.
Do you speak Dutch and how did you learn?
My Dutch is really, really bad, I have to tell you the truth. Everybody speaks English. All of my team, they all speak to me in English. When I moved here I tried to study Dutch for three months, and the reason I stopped was I just realised it wasn't really useful. When I go to the supermarket as soon as I say, 'goedemorgen', they immediately continue in English, which is very respectful. Really respectful for them to do so.
They are being nice, polite, and I always find it charming when Dutch people say, 'Ja, but please my English is not very good', and then their English is perfect. I always admire them when they say that.
What's your favourite Dutch food ?
I am a person who's into health, vegetables, into changing the world. And when I moved here I literally gained three kilos because of all the fried food. So I think the only thing I could say is this: my favourite Dutch food is erwtensoep!
I try my best, and I always try to cook myself to make healthier Dutch food. I actually made bitterballen with liquid nitrogen. I did! I froze it with ­-200 degrees liquid nitrogen and then afterwards baked it in the oven, because it gives it a crust but stays soft inside. It's like it's been fried, but actually hasn't.
How Dutch have you become?
I have become a little Dutch. Once I moved here I hated the word gratis. I hated the word gratis. It's against my culture. When we see something for free in Jordan we're just like, 'Uh, no. No thanks'. Businesses won't even use the word 'free' in Jordan because people hate it. If you see the phrase 'buy one and get one free'. Jordanians feel like we are either taking something that is not ours to take, or we must have over-paid for something else.
I have changed, frankly. So when I see 'buy one get one free' I just go and buy it. I see everybody doing it. It's not longer shameful.
Which three Dutch people (dead or alive) would you most like to meet?
I would like to meet the Dutch royal family. They are so down-to-earth, and I admire that. But, to be honest, I have to tell you something: I'm connected with a lot of government people here, because the government sponsors me in my projects. But I feel they're too down to earth. I feel they act very normaal, or try to act normal. It's respectful, of course, but in the same time they don't get to shine.
What's your top tourist tip?
Definitely Rotterdam, because I live here. I would say in the area of Prachtig Bar-Restaurant—it's the best view in the city. And then, of course, the best tourist point in Rotterdam is the Markthal. It's so beautiful, so fascinating. Everytime you're there you just keep looking at the whole place; it's fascinating.
I would say my favourite place to eat in Rotterdam, actually I would definitely say: Parkhoevel. I love food chemistry, and let's say they share the same beliefs as I do: sustainability, a good atmosphere and, in the same time, innovation. It's not an everyday kind of restaurant, no, but once in a year, twice in a year? Definitely worth it.
Tell us something surprising you've found out about the Netherlands
Bikes. Bikes are everywhere! I didn't know how to cycle before I moved here, because in Jordan we're a mountain country, so we all rely on our cars. So when I moved here I had to learn how to cycle, and that was really fascinating—everyone was looking at me like I was a weirdo. I fell lots of times, I have to be honest, but I did it. I learned how to cycle and now I use my bike to get to the office.
I prefer the bike more than the car now, because it's so easy just to park. But my bike has been stolen three times already. This is my fourth bike, so I decided that if this one's stolen, OK, I'm just going to walk.
If you had just 24 hours left in the Netherlands, what would you do?
That's a very hard question… First of all, here's what I would do: I would be with my friends. I have lots of friends in the Netherlands, and I just want to be with them. That's the most important thing. And I will take them to Delft! I love this small city so much. I love how crazy it is—it's sort of, as they say in the Netherlands, gezellig.
I know a great restaurant there, so that's exactly where I'd be spending my last 24 hours. It's called Cocoon. It's a small restaurant, really tiny, but it's really worth eating there because it's handmade food. An old lady cooks the food; you get the homey feeling out of it. I would say the best 24 hours of my life maybe would be spent there. You know, you get so sick and tired of suits and the same lifestyle. I wear suits every single day of my life, so you just get, you just want to change your mood, your lifestyle.
Moayad's healthy food additive company is called 7thcircle.nl
Moayad Abushokhedim was talking to Joshua Parfitt
DutchNews.nl has been free for 13 years, but now we are asking our readers to help. Your donation will enable us to keep providing you with fair and accurate news and features about all things Dutch.
Donate via Ideal, credit card or Paypal.