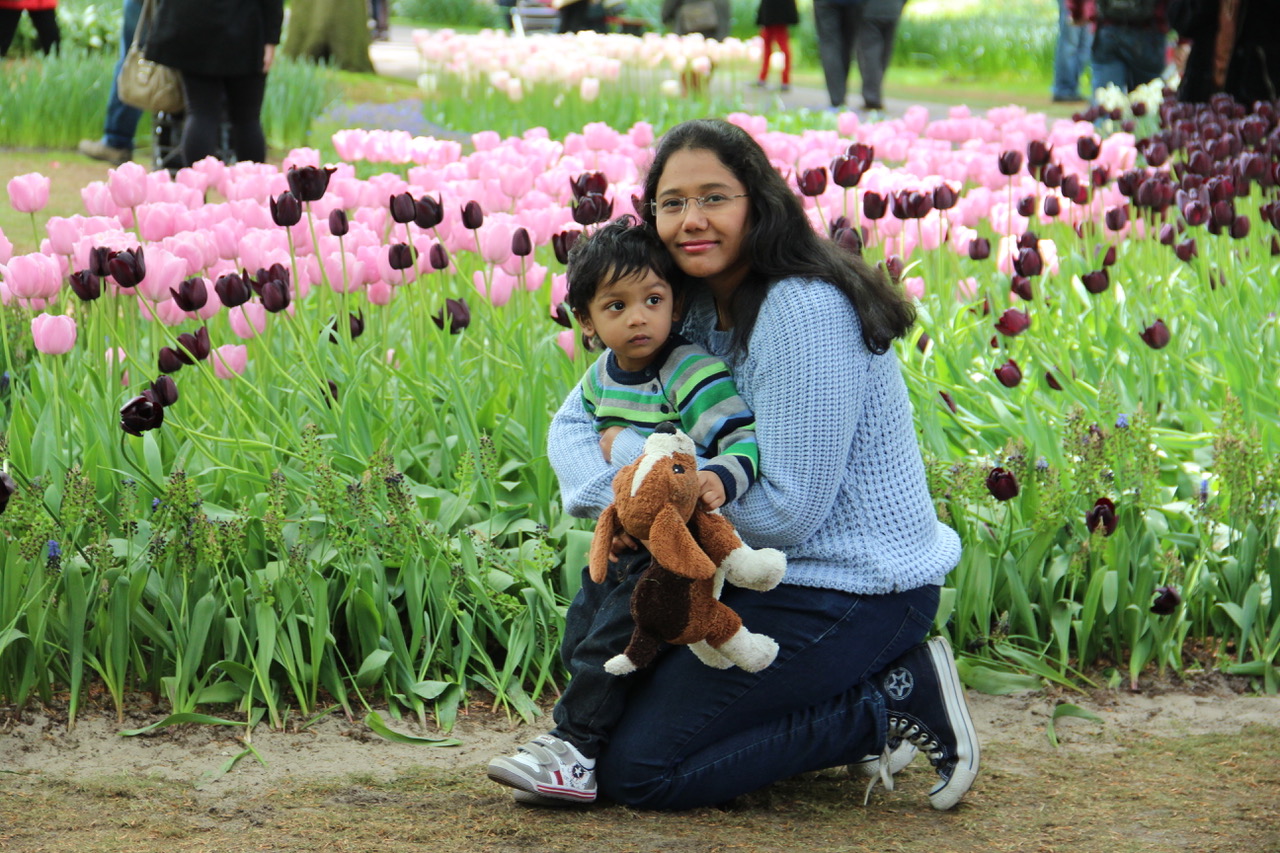 Seven years ago, Beena Arunraj said goodbye to her dental practice and, with her husband Eddie, who works for Philips, upped sticks and moved from India to Eindhoven. Beena has been shocked by home births and sales staff in Ikea, but says she would like to meet Menno Snel and talk to him about the 30% ruling.

How did you end up in the Netherlands?
It was by a very normal route: my husband was with Philips, so he moved here for work eight years ago. I had never moved to another country before, but when you're living in India a different state is almost a foreign country. We have a different language for every state, so it teaches you what it means to move to a new culture.
How do you describe yourself – an expat, lovepat, immigrant, international etc ?
I wouldn't call myself an expat, because technically my husband is the expat; I would call myself an international. And I would call myself an international even if I was in India, because when you read a lot, and when you travel a lot, your mind stretches and I think once it stretches it can't shrink. I was like this before, and I think I kind of it re-emphasised it coming here because I didn't change so much; I could accept other cultures easily.
How long do you plan to stay?
Right now, I'm not thinking of moving elsewhere. Twice we were offered a good job in the US, but we actually turned it down. We chose the Netherlands over the US. One reason is Trump… Well, Philips does take good care of you, of course, but it's more about Trump's cultural impact, white supremacy, and what you hear of… I don't think it's the right time for anyone to move there, especially us.
In the Netherlands I would always know that when my son says something about home, about his country or our culture, it wouldn't be ridiculed here. It's never ridiculed. Dutch society is more tolerant I feel.
Do you speak Dutch and how did you learn?
It's not good because I haven't really had the necessity to learn it. Even with my neighbour, I don't speak Dutch with her, but our relationship has still been so nice. We can jump over our fence into her house, and she can do the same with us. And our children also get along: when my neighbour has a paddling pool out, I don't have to make my pool, I can just drop my son into hers. We can do that easily. She's proper Dutch, her partner is Dutch, but still they're not closed to communication.
But I will be learning Dutch soon, because I figured that if you don't know the language, you really can't integrate into the society.
What's your favourite Dutch food?
I would say stroopwafels and the Dutch bitterballen. I have a sweet tooth, so the stroopwafels are welcome—and the bitterballen, yes, to offset the sweetness. I have them together! Not nowadays, though, because I'm conscious about my sweet tooth. I can't have much.
How Dutch have you become?
I haven't conquered the language but I have become Dutch in some ways. I have many Indian friends who still do the whole winding way of saying no, but I've become much more direct.
That's what really I adore about this country, though, that everyone is treated so equally. I went to Ikea when I first arrived and the lady there said she could only send our furniture to us two days later. I was still in my Indian mindset. So I started to persuade the lady. I said, 'No… I would like it tomorrow, I mean I have a party, and I have to do this and that…' because in India you can push the other person to make them say yes. You can always push more.
So I was going on, taking her time, until the lady said directly to me, 'Hey, even if you're then queen of the Netherlands, no means no.' I was just shell shocked. I thought it was rude. But after some time I realised it was my mistake: this was her job, and I should respect that.
I think I really like the Dutch humour too. We cannot talk like they do, in India; we're a bit more, well, not so direct. For example, there was one time I was sitting in the reserved seat on the bus, and I was really pregnant and close to delivering my baby. I was, like, you know, too big and I was squirming in my seat in this crowded bus. And then a teenager sat opposite me, maybe 19 or 20 years old, and he just looked at me and asked in English, 'Do you wish you didn't do what you did now?' I couldn't believe it! I laughed and laughed, and he laughed, and every one else around laughed, and I said, 'It's too late now!' He made that joke in a kind of decent way, I felt.
Which three Dutch people (dead or alive) would you most like to meet?
I really want to meet Menno Snel, the junior finance minister. I don't think his plan to cut the 30% ruling for existing expats is going to benefit either the Dutch or the expats. To give a commitment of eight years and then to go back on it isn't right for the integrity of the country. My family will lose the ruling in January.
I also want to thank the FNV (trade union federation), especially Tuur Elzinga. The FNV is against the 30% ruling, they want to get rid of it completely, but even they came out saying that it should not be scrapped for the existing beneficiaries.
The third person person would be Arie Slob, the minister for school education, because I'm an advocate for bilingual education in the Netherlands. It's not just for international students, I think it's also good for Dutch children to learn as many languages as they can when they are growing up.
What's your top tourist tip?
It's a shame that when people think of the Netherlands they only think of Amsterdam. There's so much more. I think the villages are far more picturesque, especially the Zaanse Schans in Noord Holland, with its windmills. Harderwijk is also one of my favourite villages on the waterfront. A lot of families might have been there for the Dolfinarium, but it's a beautiful place to look at the canals, the quiet cafes and the fishing boats.
The Dutch islands, the Wadden Islands, are also wonderful. There's one island with the lighthouse, Terschelling, which makes for such a nice weekend getaway. 
Tell us something surprising you've found out about the Netherlands
A big surprise would be home births. It's completely new to me. The midwife comes to your house of course, but I always used to think, 'What if something goes wrong?!' I learned about it in my birthing club, when I was pregnant with my son. I think half of the Dutch women at the club had a home birth.
If you had just 24 hours left in the Netherlands, what would you do?
It gives me a strange feeling to think about this, but I think I would go biking in the woods, and send out farewell messages to my friends and acquaintances. In Eindhoven, I would really love to visit the Philips Fruittuin for a quiet family lunch, and would love to have dinner with all my friends. But even if I leave the Netherlands I would carry some Dutchness with me. Seven years is not short right?
Beena now works for local news service Eindhoven News. She was talking to Joshua Parfitt
DutchNews.nl has been free for 13 years, but now we are asking our readers to help. Your donation will enable us to keep providing you with fair and accurate news and features about all things Dutch.
Donate via Ideal, credit card or Paypal.