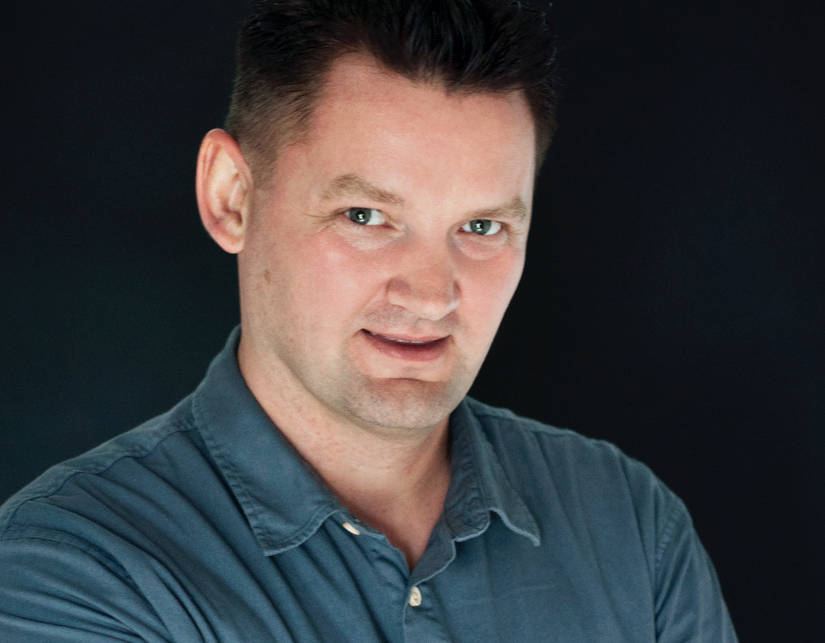 Daniel Garbowski is a computer engineer for NetApp. Bank with ING or ABN AMRO? Use Ziggo, Vodaphone, or interact with the Dutch government? Chances are that Daniel's looking after your data. He says he is one of the 5% of Poles that work for multinationals in the Netherlands, and he has a message for EU citizens everywhere.
How did you end up in the Netherlands?
In 2010 I moved here from the States. If you live and work in the United States, you need to renew your working visa every one or two years. In my case, [2010] was the end of my visa, so I could have requested to stay longer, but it takes a lot of time. You need to go through this whole process, with some ridiculous questions, and I knew that in Europe you don't need it; you can just move from one country to another. It's a never-ending story. And if you can just go back to Europe and forget about it? Relief.
How do you describe yourself – an expat, lovepat, immigrant, international etc?
I felt like an immigrant in the States. Because you need to go through all that paperwork—it doesn't feel like home. But in the Netherlands, I would say I'm more of a EU citizen. If you can just switch between countries, and you don't need papers, it feels like home. Europe is home.
Do I think Brexit is bad? That's what the country voted for, because [the people who voted] don't travel and they don't live abroad. I have lots of [Polish] friends from high school who work in Britain, and they struggle now with how it's going to be. They worry…I think they have the same feelings as my British colleagues at work [in Amsterdam].
How long do you plan to stay and why?
If my company gives me an offer to go to a different country, it's fine with me. I don't want to say anything bad about Holland, but if I have an opportunity to go to a new place, why not? That's how I ended up here. Do I have a problem with staying? No, I do not. My mortgage is supposed to be for 30 years! But it's a good feeling to have, that you don't have to stay in one place, you can always go to a different country.
Do you speak Dutch and how did you learn?
I did learn Dutch in 2010 and 2011, but because of my work environment I mainly speak English now. At my [ROC Mondriaan language] school, most of my classmates did not have a higher education; most of them did low-skilled work. And, well, they are limited because for any kind of work they had to learn Dutch. So I think it depends on what kind of work you do.
For big international companies it's a different story: you know you will end up in an environment where English is the main language. Holland is attracting big companies because they have no problem to hire staff that speak English here—the main office for the EEMEA region of my company is located in Holland. Other stuff of course is a tax advantage they have, but that's a different story.
What's your favourite Dutch food?
There is one food, I think they only have it in Holland: fresh herring. First, when I saw people in the street eating herring, I thought that's weird. But then I tasted it and it became my favourite food. It's so tasty, and so good. With onions and a piece of bread. I eat it once a week, at least.
Sometimes after I come back from work I open my fridge and, 'Hey! There's a herring!' You can buy them in packages, two in one, with onions. But a fresh one, on the street—I suppose it kind of is a 'street food'—that's the best.
How Dutch have you become?
When I arrived it was 2010, it was the middle of the [financial] crisis. Companies, instead of hiring, were firing. So for the first few months, instead of doing computer-science-related work, I worked in a hotel as a waiter.
And that was a really great experience. Why? Because I worked only with Dutch people. I know lots of people coming to Holland, especially from Poland, and they struggle. [Polish people] feel they are second-class citizens. I don't really understand that. Dutch people treated me very well. Even if they found out I was Polish, they always treated me the same. I really enjoyed that time and, after I moved back to office work, I miss that part of my life—because I felt part of a team.
Polish people are always complaining. Polish people don't smile; they have a kind of barrier which holds them from being open. And maybe that's part of the issue: because I wouldn't say Dutch culture is really different compared to Polish culture. I suppose instead of becoming Dutch, I've become more international; I've become European. More open. When I go back to Poland, my friends know that if they ask me how I am, I will say positive things; I won't complain. I think that's the best answer.
Which three Dutch people (dead or alive) would you most like to meet and why?
For a still-living person, that would be the prime minister Mark Rutte. He's been a prime minister for really long time, but every time I talk with a Dutch person and we switch to politics, it doesn't matter which party the person supports, they will always speak with respect about the prime minister. We don't know if he's a good guy, but he's doing really great PR. I would like to ask him if this is just for show.
From an engineering point of view, one of the most important constructions was the Delta system in Zeeland. It was built after the great flood in 1953. I really would like to meet the members from the team [that designed it]. It's one of the greatest constructions built by human beings.
And the third one: I'd like to meet the people who built the Maasvlakte. It's on the other side of Hoek van Holland, and it's all man made. Everytime I visit that place I'm impressed that it was made by humans. We all know the islands in Dubai, right, but do you know who made them? It was the same people which actually first designed how to build the Maasvlakte. Most of them they are Dutch companies.
What's your top tourist tip?
Discover Holland by bike. If you want a really good experience, and to learn about more than just Amsterdam, then take a bike. You will be surprised how the cities are different—Rotterdam is really different to Amsterdam, but you should discover that by bike, not by car. You won't see it from a highway.
Tell us something surprising you've found out about the Netherlands
The big surprise for me was that everybody speaks English. You speak with an 80-year-old lady in an elevator, and it's the same with a 25-year-old colleague from work. The English level is brilliant. It's amazing how well they speak English. And the accent: you go on vacation to a completely different side of the world, and you can pick up the accent right away. Like, in February, I was in Japan, and then I heard somebody speaking English and I could pick up right away that that was a Dutch person. That accent, it's so specific. You know right away.
If you had just 24 hours left in the Netherlands, what would you do?
Get a fresh herring. And then take a bike, and ride as much as I can. Cover as many places by bike. I'd go to the countryside, because it's so well kept. The only other place [that's similar] was Japan. Like, if you go to a forest here, you will see the trees in line. You don't see that in the US, or in Poland. But over here you see lines; it's so perfect. It looks so funny in the beginning, but then you start to appreciate that. How great they are with keeping their surroundings. So clean.
As a taxpayer, and you know your money is spent well. You have this satisfaction. You pay all this money and then you appreciate it in these short moments of your life, like 'OK, it finally makes sense to pay so much money!'
Daniel Garbowski was talking to Joshua Parfitt
Thank you for donating to DutchNews.nl
The DutchNews.nl team would like to thank all the generous readers who have made a donation in recent weeks. Your financial support has helped us to expand our coverage of the coronavirus crisis into the evenings and weekends and make sure you are kept up to date with the latest developments.
DutchNews.nl has been free for 14 years, but without the financial backing of our readers, we would not be able to provide you with fair and accurate news and features about all things Dutch. Your contributions make this possible.
If you have not yet made a donation, but would like to,
you can do so via Ideal, credit card or Paypal.