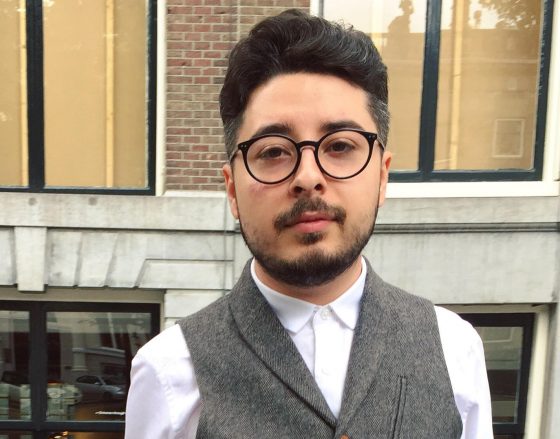 Vince Dinga, 27, arrived in Amsterdam from Romania four years ago in search of a purpose in life. After studying for a masters degree he stayed on and is now PR manager with award-winning tech conference organisers The Next Web. He explains why wayward tourists make him laugh and he can no longer stomach stroopwafels.
How did you end up in the Netherlands?
It was a combination of the desire to start from scratch in a new place and wanting to have a purpose and a goal in life. so, I started looking for interesting Masters courses. The University of Amsterdam looked really good: it was the only one I applied for and luckily it all panned out. Finding a place to live was difficult; back home in Bucharest it's much easier. I was lugging my heavy suitcase around the city and staying in different places for a few days at a time. After about a month I found a really central place near Dam Square. That was great for a couple of years, being able to walk to Uni and go out a lot. But eventually the hordes of tourists, the noise and the prospect of a better place drove me out of the centre.
How do you describe yourself – an expat, lovepat, immigrant, international etc?
It's difficult to say! Technically I'm a foreigner but I no longer feel like a stranger. Living somewhere radically different from your home, speaking a different language: I think it changes you. And when you go home you can feel out of place again. When I travel there's always this long explanation that I feel I have to give – 'Well, right now, I'm coming from Amsterdam but I'm not Dutch. I'm originally from Romania…'. I think it's hard to say just one thing or the other, it depends on where you are and who's asking.
How long do you plan to stay?
I thought I'd only stay for a year: now I've been here for four. I used to get this question from a lot of people at home. The answer remains the same: I'll stay as long as I feel happy about my life here. If things took a turn for the worst I could just pack my bags and move on. I think that's a healthy attitude to have. I've done it before, and I know I could do it again.
Do you speak Dutch and how did you learn?
Back home the first language you normally study is French, when you're about eight years old, then you start with English at about 11 but I started a lot earlier. I really like languages and started to try to learn Dutch before I arrived here. I used Rosetta Stone: it was fun, but I can't say it helped a lot in real life situations. I remember that when I actually got here and started taking classes my pronunciation was pretty good because the software made you do it again and again until you got it right. I call my Dutch 'supermarket level'. I can get by in simple situations but I'd like to improve it. At work it's an international environment and at home I speak English as my girlfriend is from Poland. I know I'm missing out on many things because I don't speak Dutch fluently, so I'm sure I'll come back to it again, provided I stay.
What's your favourite Dutch food?
I guess Dutch food is an acquired taste. I would have said stroopwafels but I ate so many of them when I first came here that I can't touch them anymore! So, I guess it would have to be bitterballen – they take me back to uni. There's just something unique about having a few hot ones with spicy mustard on a terrace by the water, on a brisk late summer evening, drinking a nice craft beer.
How Dutch have you become and why?
It's funny but I used to hate cheese before I came here. If it didn't come in a cheeseburger I wouldn't touch it. Now, I like trying different kinds – and I'm in the perfect place. I like many of the local traditions too. I discovered the burning of the Christmas trees (De Kerstboomverbranding) in Museumplein last year and I liked it. Lots of families, really nice. I draw the line at salty liquorice, though I pranked some friends with it back home.
Which three Dutch people (dead or alive) would you most like to meet and why?
The artist behind The Little Woodcutter across the Leidsekade – There is a big tree opposite the Hotel Americain and there is a small bronze statue on a branch of the tree. It appeared in 1989 and no one knows who put it there. I'd like to know. It's still there. If you pass it, it's worth checking out. His feet have sunk into the tree and it's now growing around it.
MC Escher – I realised a few years ago he was Dutch. His work is brilliant and unlike anything else. I love art and film photography. I take photos as a hobby, I'm quite passionate about it and I've done it for many years. I had an exhibition back home once, I haven't done much with it since I've been here; I just do it for myself basically.
The third one would be the Dutch historian, Johan Huizinga. I studied his Homo Ludens in high school, so it brings back nice memories. It's about the importance of the playful element in people and society, it's a really good book.
What's your top tourist tip?
First I tell my friends what not to do! Don't call it the Dam, stay off the bike lanes, ignore street dealers, don't fall in the canal at night when you're drunk! The funniest thing is when you see tourists come here for King's Day and they turn up on the wrong date. That makes me laugh, they've probably got an out-of-date guidebook. One thing I do always tell people is to get out of the city centre and look past the iAmsterdam hitlist. The centre is becoming a bit of a Disneyland anyway. So instead of going to the Heineken Museum, go have a real beer at Brouwerij 't IJ instead. Skip the lines at Madame Tussauds and head for the Pipe Museum – you'll get a guided tour and you might learn more history there than from the big, crowded museums.
Tell us something surprising you've found out about the Netherlands?
I heard something interesting recently. If you follow the house numbers in descending order, on any given street in Amsterdam, they should eventually lead you to Centraal Station. All the roads lead there apparently. It makes sense if you look at how the centre, with the canals, was constructed.
If you had just 24 hours left in the Netherlands, what would you do?
Deregister from the municipality! You can get in real trouble if you don't! Other than that, I'd ask Mr Reinier Sijpkens to give me a tour of the city on his 'Notendop' music boat while he performs. He usually just sails around and plays music. People gather on the bridges and listen. That would be a great send-off.
Thank you for donating to DutchNews.nl
The DutchNews.nl team would like to thank all the generous readers who have made a donation in recent weeks. Your financial support has helped us to expand our coverage of the coronavirus crisis into the evenings and weekends and make sure you are kept up to date with the latest developments.
DutchNews.nl has been free for 14 years, but without the financial backing of our readers, we would not be able to provide you with fair and accurate news and features about all things Dutch. Your contributions make this possible.
If you have not yet made a donation, but would like to,
you can do so via Ideal, credit card or Paypal.