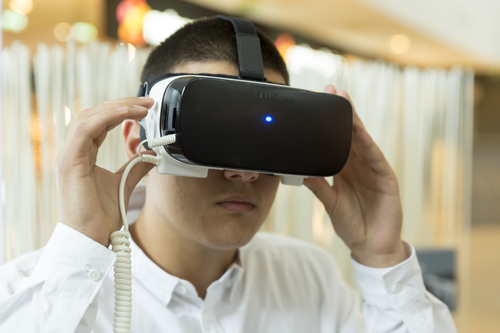 To many, virtual reality is still a distant and futuristic concept, with the possible exception of gamers. Yet the applications are becoming increasingly more available, improvements are being made in the gambling industry, doctors are becoming better educated, and virtual reality can potentially contribute to a more sustainable society.
Virtual reality's technology precedes the current developments by over 60 years. In fact, Morten Heilig was the first to conceive ideas and laid the foundations of Virtual Reality as far back as 1950. Heilig developed the Sensorama, consisting of a stereoscopic 3D display, stereo audio systems and a vibrating seat to increase reality. This technology (albeit improved) is still being used in creating Formula 1 simulators.
Heilig's goal was to make the viewer participate in a film and to let the viewer experience more of what's happening around him or her. Heilig also created a number of short films to be used in the Sensorama in which the viewer could look under the hood of a car or go on a date with Sabina.
When looking at current virtual reality gear, one can find the Oculus Rift, or even the glasses released by Samsung last year, in which a new device can be placed to experience more. However, this too is not a new concept: Morton Heilig developed and patented the Telesphere Mask in 1960, thereby creating the first head mounted display.
One can safely say that the development of this industry has not been very fast, considering more than 50 years has since passed. In the 1990s, Sega and Nintendo were embroiled in a fierce competition and both companies tried to develop virtual reality games, including glasses. This turned out to be a major flop. Only in recent years have there been great developments in the virtual reality industry.
The solution for society's current problems?
If you were to Google search 'the hardening of society,' one will have almost 100,000 hits instantly. It is currently an issue, the discussions are becoming tougher and the understanding for one another's views is hard to find. We only need to look at the Zwarte Piet issue currently going on in the Netherlands to understand this. Everyone has their own opinion concerning this issue. This hardening of society is partially due to the lack of empathy, the ability to understand the other side of a discussion.
Jeremy Bailenson, founding director of Standford University's Virtual Interaction Lab claims that virtual reality can contribute to the behavioural changes.
'If you think of an intense experience you've had in your life that has changed the way you think or behave, and if you believe that VR can feel real, then you can start to understand how VR experiences can change the way you think or behave,' he says.

Skyscraper
If you doubt whether rirtual reality can actually do this, we recommend to go to VR Room in Utrecht, the Netherlands. There, through rirtual reality, you can experience standing on the edge of a skyscraper, and see how quickly you will be shaking from fear. It really feels lifelike.
So how virtual reality actually counter the hardening of society? A current example that is dominating the international news and politics is the large flow of refugees from countries such as Syria. Virtual reality contributed greatly by collecting $3.8 million to be sent to aid the refugees.
Clouds over Sidra is a film developed for the virtual reality systems addressing this issue. In the film one shows life according to the 12 year-old Sidra. Literally. Clouds over Sidra gives a VR tour of the Zaatari refugee camp in Jordan from Sidra's point of view. Zaatari houses more than 130,000 Syrian refugees and one gets a clear and immersive view in the way of life in Zaatari.
Virtual reality then might be a big and important step towards solving and surviving, rather than days, months and maybe even years of political instability and strife. Literally step into the world of another and get a clear understanding of the situation. It might not change your opinion, but it will hopefully change the unsympathetic way of discussing and reduce the hardening of society.
Health care profits from Virtual Reality
In the healthcare sector, this technology can support and lead to great innovations. The education of many doctors can greatly improve. An ophthalmologist can improve his or her skills by practicing on a virtual patient or explore the complex nervous system of the eye. EON Reality has developed simulations that allow for more detailed and safer practices.
Newly created is the Icube, developed especially for diagnosing and treating patients with anxiety disorders. In it, a virtual space can be entirely furnished and decorated to treat children as well as adults. Although we are not medically trained, we can imagine that it is as if someone with severe agoraphobia can be virtually taken outside to be among people as part of the treatment. After a brief moment's thought, one can see that the possibilities are potentially endless.
Growth
Juniper Research recently published a report named 'Mobile & Online Gambling: Casinos, Lotteries, Betting & VR 2016-2021', according to topcasinobonus.nl. In the next five years, Juniper is expecting an 800% growth to a revenue of at least €500m  for the virtual reality casino industry.
While this may seem like a lot, there are many within the European Union that are pushing for a more uniform regulation and legalisation of online gaming and casinos which can potentially lead to an enormous growth within the market.
When considering the Netherlands specifically, providers are now allowed to accept Dutch players, although they are not allowed to actively approach them. This will most likely change within a year, as the Dutch parliament approved a bill to regulate online gambling in July 2016. A licensing programme will be established for the providers with regulations and rules to combat gambling addiction, as well as ensuring minors are not allowed to partake, and of course to set tax rates.
Once advertising is once again allowed and if, for example, football clubs will have providers advertised on their kits (just as Bwin was Real Madrid's main shirt sponsor), that will automatically attract more players. The licenses will also ensure that there is a set of safety guidelines concerning a players' money and that there are terms and conditions for playing.
Live casino been available for quite some time now. You can register at a provider of online casino games and you will see a croupier spin the ball live. If there are many Go-Pros installed around the table, it is even possible to choose a position at the table and follow the ball in slow-motion. The next step in this development is called Immersive Roulette.
No flight or hotel
Juniper also expects the developments to go much farther and due to virtual reality, you will be able to walk around an enormous casino and play for real money. This will save you paying for an 11 hour flight and you will save the costs of a flight and a hotel.
These are only a few of the possibilities that virtual reality can and will offer us. The gear is continuously improving and becoming more affordable, even for consumers. Once there are more users, developers will jump on the opportunities and the market will be much larger, making projects and developments profitable.
In a few years you will not have to have a subscription to television providers to see El Clasico, but you will rather be able to virtually sit among the fans in the stadium and experience it first-hand. Does this sound too futuristic and fictional? This has already been experimented with in a match between FC Barcelona and Manchester United FC.  Virtual reality will undergo great developments within a few years.
DutchNews.nl has been free for 12 years, but now we are asking our readers to help. Your donation will enable us to keep providing you with fair and accurate news and features about all things Dutch.
Donate via Ideal, credit card or Paypal.