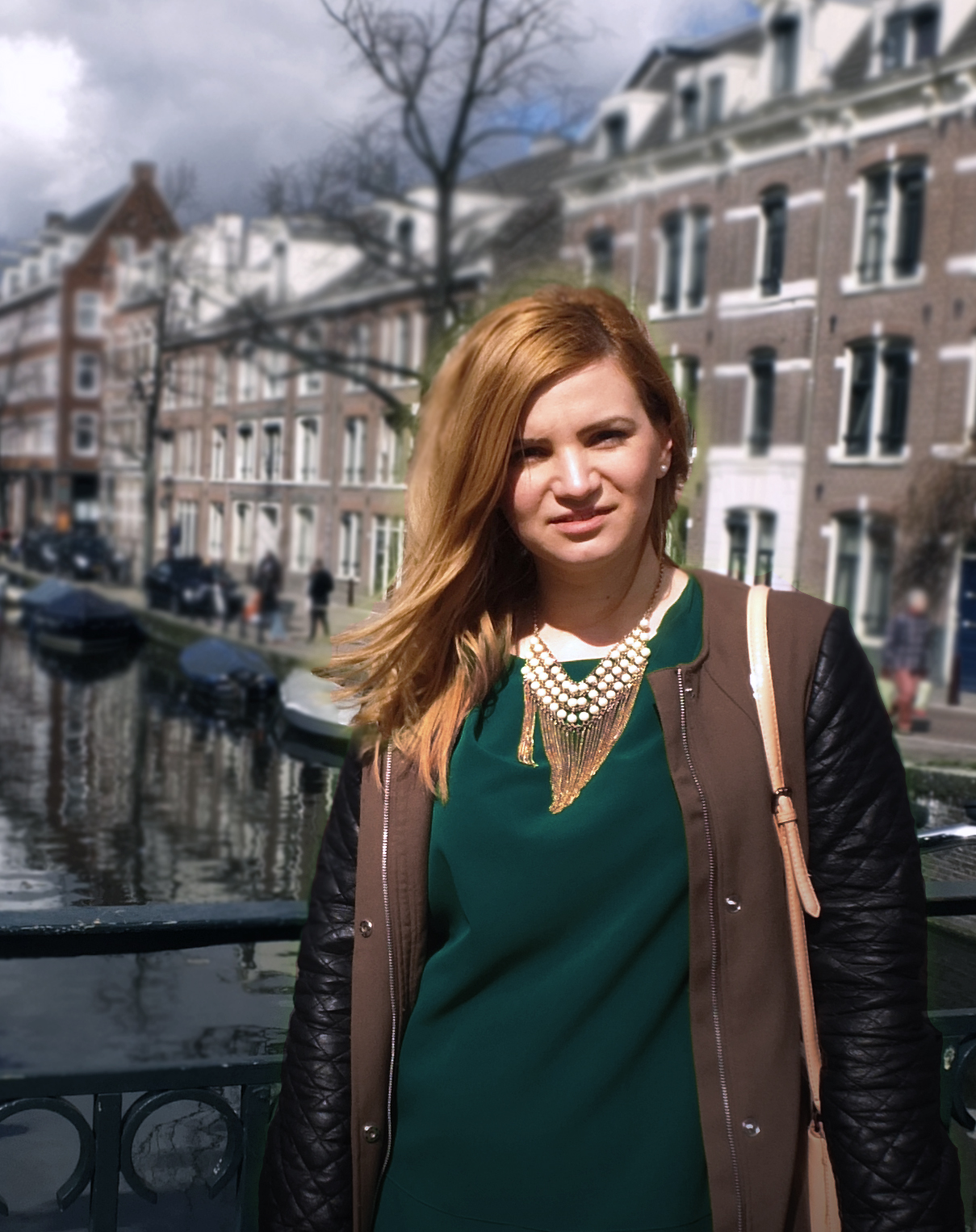 Romanian national Irina Damascan, 26, came to the Netherlands two years ago, failed to get the job she was after and decided to stay anyway. She's now co-founder of a company trying to revolutionise the Dutch relationship with their bikes, is planning to take a second master's degree in architecture and will never forget how her boss reacted when she was late for work.
How did you end up in the Netherlands?
I came two years ago for an internship in the PR department at [architects bureau] OMA in Rotterdam. I was giving up running a PR agency for architects and designers in Romania for an internship position but in the end, after four interviews, I was rejected. I felt miserable, but stayed anyway and learned to deal with rejections as an expat and ended up getting a lot of personal growth from the experience. I then came to Amsterdam and did a mentorship at THNK, the creative leadership school, that changed my life and my view on Dutch society.

How do you describe yourself – an expat, lovepat, immigrant, international?
I am a blender! I blend in when tourists ask me directions and I reply exactly like a Dutch person would. But in my heart I am still Romanian and try not to forget where I came from, although the Dutch way of doing things is pretty contagious.
How long do you plan to stay and why?
I never make such plans. I enjoy my life here very much and since I've started a business here with the Dutch at the centre I'm not planning on going anywhere soon. Moreover, I plan doing a second master's degree in architecture here. I think a Dutch education will bring me a lot of new insights on how to better integrate, in addition to the implicit added value of having another degree from a top university.
Do you speak Dutch and how did you learn?
Not as well as I would want to. I learned most of my Dutch by listening to the radio (100%NL) and by reading official websites for the tax office and chamber of commerce. I also try to read the mail I get on my own and pick up words from random conversations.
What's your favourite Dutch food and why?
I love a Bossche Bol because the first time I ate one I was in the city of Den Bosch with my Dutch boyfriend and the rainy day became a bit brighter with the soft inside covered in chocolate. It's a simple yet effective dessert and I feel that it describes the Dutch perfectly.
How Dutch have you become and why?
I am more on time than I used to be because the Dutch hate it when you're late. I had to learn that the hard way when my boss sent me home one morning when I showed up 15 minutes late. I spent the whole day in a café close to the office crying and working hard to prove I was still worthy of the job. Then I started loving this way of handling things. I respect people who are able to do that and keep their word.
Which three Dutch people (dead or alive) would you most like to meet?
I've already met two of them and I am going for the third soon! I wanted to meet Rem Koolhaas and I met him in Venice at the Biennale. I hope to get to talk more to him one day as he is an inspiration to me. Second is his right hand, Reinier de Graaf who runs the AMO research department and twin sister of OMA. He is still on my 'to meet list' and third is [architect] Ben van Berkel who I met at THNK as he is part of the advisory board there.
The choice of three architects might be a bit one-sided but they are truly inspirational for my profession.
What's your top tourist tip?
Don't follow the map! Get lost in the city and enjoy!
Tell us something surprising you've found out about the Netherlands.
All nature is planned out! I miss the raw nature back home. Yet, the way bike parking is planned is still so random. I guess things can't be changed so easily. But my team and I are about to do that with our smart bike parking system!
If you had just 24 hours left in the Netherlands, what would you do?
I would be as much of a tourist as one can be. The ability to open your eyes to new things and see things in new perspectives is something you lose if you are focused on your job and getting from A to B. I would definitely still spend my time in the way most Dutch do, out in the sun on terraces, but I would just walk around and enjoy the architecture and the canals.
Irina Damascan is co-founder and CMO at Linked&Locked which is developing a smart network of bicycle locks.
DutchNews.nl has been free for 12 years, but now we are asking our readers to help. Your donation will enable us to keep providing you with fair and accurate news and features about all things Dutch.
Donate via Ideal, credit card or Paypal.