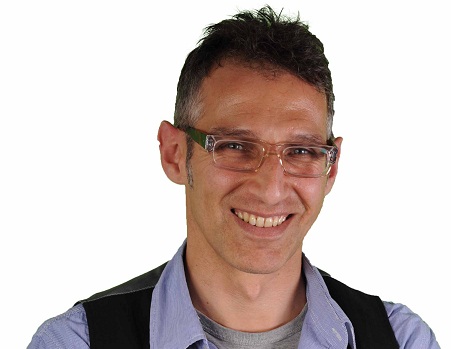 Mike Russell (52) has lived in the Netherlands for 28 years, and manages an apartment rentals company. He feels at home here, but still doesn't feel entirely Dutch. However, in true Dutch style, he gave this interview while riding his bike through the centre of Amsterdam to work.
How did you end up in the Netherlands?
I finished my Phd in computer science in Wales, then I registered with an agency in London and said 'get me a job anywhere but the UK'. They came up with all kinds of options, and I started work as an Apple Mackintosh developer here in 1988.
Years later, I had a consultancy company which I sold because I wanted to do something that I had no background, skills or qualifications in. I knew some people in real estate, had a chat with them and though it sounded interesting. So I started that in Amsterdam in 2002.
How do you describe yourself – an expat, lovepat, immigrant, international?
I guess I started as a classic expat, and over the years I have become pretty established here. My family, kids and business are here.
How long do you plan to stay and why?
Well I have no plans to leave, let's put it that way. I've always felt a little like this is temporary and that was realistic for the first year or two. Then five years fly by, then ten. I think I'm in the position that a lot of expats are in, where they always think it's temporary but they end up staying here for a big chunk of their lives. I've lived here now longer than I was ever in the UK.
Do you speak Dutch and how did you learn?
I do speak Dutch. I took lessons for a number of years. After a couple of years of not going for it, because this was supposed to be temporary, I went for it. My lucky break came when I started working somewhere with a colleague who was probably the only person in the Netherlands who didn't speak any English at all. So that pushed me along a bit.
What's your favourite Dutch food?
Tapas. It's not Dutch but it's the best food I could find here. I'll eat bitterballen with the best of them, but they're not the national dish or anything
How Dutch have you become?
Well, speaking the language is part of the way, but at certain moments in the year you realise you're totally not Dutch and never will be. For example, I don't know any of the birthday songs, and at the Sint Maarten festival in the Jordaan all the parents of the kids are singing along. They look at me like I'm a grumpy parent but I don't actually know any of the words.
I have become quite direct in expressing my opinion without beating around the bush. It's quite refreshing to be able to do that, but when I return to the UK I do come across as a bit brusque sometimes.
Which three Dutch people (dead or alive) would you most like to meet and why?
Hans Brinker, the boy who stuck his finger in the dyke in the late 1800s. It was really cold that night and he could have walked away but didn't. A pretty cool dude… okay, yes I know he is a fictional character.
Desiderius Erasmus, who was a pretty brainy guy. An interesting philosopher and theologian.
And the guy who invented cheese…yeah that guy, whoever he was!
What's your top tourist tip?
Look at a guidebook of Amsterdam, look at all the places mentioned there, and then decide not to visit any of them! In any city when you move off the main thoroughfares you discover something not evident in the guidebooks. The Netherlands has a lot to offer if you ignore the Keukenhof, the red light district, the parliament building at The Hague, etc.
Tell us something surprising you've found out about the Netherlands.
I'm surprised sometimes by how people here keep a very accurate running calculation in their heads at bars and restaurants. When the bill comes people make a very quick calculation what their contribution should be, stick the money on the table, and run! The concept of splitting the table evenly doesn't really exist here.
If you had just 24 hours left in the Netherlands, what would you do?
I'd probably do something I haven't done yet. I'd visit one of the islands, Vlieland or Schiermonnikoog. I've been to Texel and it's very nice, but I feel like I should make a bigger effort to visit the others.
Mike Russell is managing director of Principle Vastgoed, a rental services agency
DutchNews.nl has been free for 12 years, but now we are asking our readers to help. Your donation will enable us to keep providing you with fair and accurate news and features about all things Dutch.
Donate via Ideal, credit card or Paypal.