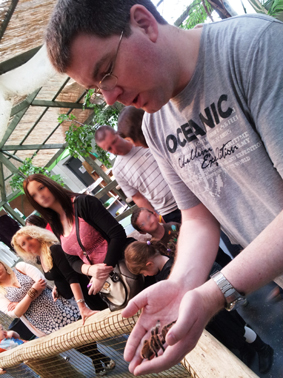 John Flood, 43, is Irish and has been a lecturer in English literature at Groningen University for six years. He is surprised by the way the government thinks it worth trying to ban the burqa in the middle of a financial crisis and would like to meet stadhouder Willem III, to find out the truth about those rumours.
How did you end up in the Netherlands?
A job came up at the English department of the University of Groningen and when I emailed someone I knew who had worked there I got the longest reply she'd ever sent me. She was so positive that I sent in an application even though I hadn't really been thinking of moving to the Netherlands.
How do you describe yourself – an expat, lovepat, immigrant, international, etc – and why?
'International' since this is the third country I've lived in and my working environment is a very international one. I do remind people that I am an immigrant when questions of immigration are discussed.
How long do you plan to stay and why?
Indefinitely. I have a permanent job here that I enjoy.
Do you speak Dutch and how did you learn?
No, I don't. In fact I have read passages of Dutch aloud at a student comedy event as the Dutch students find it hilarious. I work in an English bubble since, as you'd expect in a university English department, our students are wholly taught and assessed in English. We also have many non-Dutch students who we don't want to be excluded, so even small talk in the class breaks is in English. I advise students to dump their current boyfriends and girlfriends and date a native English speaker. None of this excuses my own lack of Dutch though.
What's your favourite Dutch food and why?
Snert, the thick pea soup. It's a dinner in itself and is great on winter days.
How Dutch have you become and why?
I don't think I've become very Dutch. Of course I now automatically buy Dutch food and live on a Dutch timetable (early – for me – dinners at 6pm, holidays for King's Day, Pentecost, etc.) but that's fairly superficial. When I lived in England (where I did speak the language fluently and where I could vote in national elections), I didn't become English, so I don't think that it's unusual that I don't feel Dutch.
In any event, I'm not sure what 'Dutch' is. If you visit the south of the country, the people and area around Maastricht seem very different from the people and province of Groningen (where some people still speak Groningens). I am a little nervous about saying that some things are Dutch or Irish or American. National stereotypes can be good for jokes, but otherwise they can easily become lazy ways of thinking that exclude the people who don't fit into them or that fail to do justice to the diversity of those living in a country. In the Netherlands, as in many places, the fragmentation of the monolithic idea of 'the Dutch' is as much generational as anything else. I wouldn't like to say that older Dutch people got to define what it is to be Dutch and younger ones are becoming less Dutch, or that the real Dutch people are the younger generation who are relegating their grandparents' generation to obsolescence.
Which three Dutch people (dead or alive) would you most like to meet and why?
William III (1650-1782), prince of Orange; Stadholder of Holland, Zeeland, Utrecht and Gelderland; and King of England, Ireland and Scotland. Having been invited to England by powers that were worried about the Catholicism of King James II, William assumed the English throne alongside his wife, James II's daughter, Mary. Part of James's strategy to recover his throne lay in holding Ireland but in 1690 William defeated him at the Battle of the Boyne and James fled.
This battle had an afterlife that made William the most famous Dutch person to intervene in Irish history. It metamorphosed into a mythical event that for many Irish people came to symbolise the relationship between Britain and Ireland. To this day, Protestant marches in celebration of the victory are held in Northern Ireland, often to the accompaniment of fighting with Catholic protesters or the security forces. In the midst of all this, William himself was simplified.
A personally tolerant man, he became associated by Protestants and Catholics alike with religious bigotry. The reason that I'd like to meet William is that it has been suggested recently that he was partially funded by the pope (who, like William, was worried about the expanding power of France) and that he was gay. The truth of either or both of these would put an end to a great deal of silly but dangerous nonsense in Irish politics as marches in Northern Ireland led by the papal nuncio and a number of drag queens (orange is the new pink) would hardly excite as much violence.
Hieronymus Bosch (1450-1516). I'm reading a book about him at the moment before I go to the big exhibition in Den Bosch. I've seen his paintings in various galleries in Europe and had formed an image of him as a maverick outsider with an eccentric imagination. Now I learn that he was a stolid figure of civic life who stayed in his home town where he was a member of a religious guild. Where the startling imagery in his paintings comes from can only be guessed at and I would love to meet him to encounter the mind that produced such lurid visions.
Christophe Plantin (c.1520-1589). There may be some objections to this choice as Plantin was French and he settled in Antwerp which is no longer part of the Netherlands. Still, it was his Antwerp printing shop that made Plantin famous and Plantin contributed to the city's fame. There he founded the Plantin-Moretus dynasty whose printing shop, a UNESCO heritage site, can still be visited.
These are all famous historical figures, but I'm lucky since in my job I get to meet Dutch people of all ages. Many colleagues across the various faculties are working on fascinating research and meeting them is as good as hours of TV documentaries. It's also common for Dutch people to have had interesting experiences of or family stories about the Second World War and their perspectives on Europe are very different from those in Ireland or the UK.
What's your top tourist tip?
The Shakespeare Theatre Diever. It's extraordinary that in Diever, a small town in Drente, there's an amateur outdoor theatre that has been acting Shakespeare annually for the last seventy years. The plays are translated into Dutch and every year they have about 20,000 people attending their run of performances. Perversely, they did A Midsummer Night's Dream in January at midnight one year and we sat surrounded by snow and layers of blankets. It was wonderful!
Tell us something surprising you've found out about the Netherlands.
The political system is very different from the ones I am used to. Ireland is a Republic and although a lot of respect and influence attaches to various old or influential families, the head of state is elected. A constitutional monarchy is, of course, a familiar system to Irish people because of all the news coverage of the Queen of England. That the Netherlands manages to have a monarch without all the attendant tabloid journalism was a bit of a surprise.
The Dutch law that surprised me the most was the one targeting the burka and the niqab. I first heard about it in a week in which, by coincidence, I was talking to my students about sumptuary laws (laws regulating clothes) in Elizabethan England. They considered that legislating to control people's clothing was an amusing phenomenon from 400 years ago and were as surprised as I had been to learn that the Netherlands was debating introducing such laws.
I remain astonished that in the middle of a financial crisis the parliament was worried about the hundreds (not thousands) of women who cover their faces in some way. In a society of high heels, Barbie doll models and the social pressures to wear fashionable and expensive clothes (all features that derive much of their power from Euro-American influences that are 'foreign' insofar as they are not natively Dutch), it seems odd to me to focus on such a minority of women rather than on the anorexia, bulimia and misery of people who populate doctors' and psychiatrists' waiting rooms and miserable beds in hospital wards.
If you had just 24 hours left in the Netherlands, what would you do?
I'd go and be a tourist in one of the many places I've yet to visit. When you live somewhere you take it for granted and often put off investigating somewhere that you'd certainly have gone if you were merely passing through. I've been to the Rijksmuseum when I came to the Netherlands before I moved here, but now that I live here I haven't yet seen the new refit.
DutchNews.nl has been free for 12 years, but now we are asking our readers to help. Your donation will enable us to keep providing you with fair and accurate news and features about all things Dutch.
Donate via Ideal, credit card or Paypal.