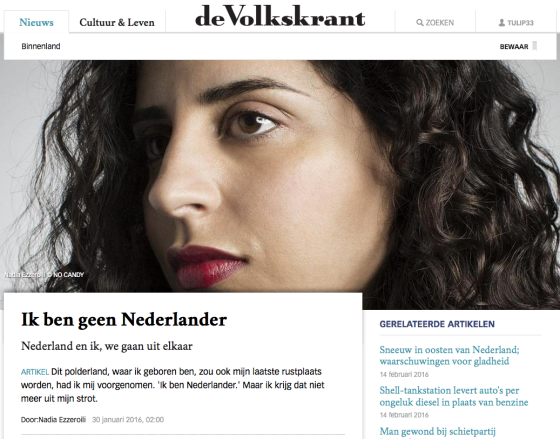 It isn't often that a newspaper column causes such a stir. But Volkskrant journalist Nadia Ezzeroili's column entitled 'Ik ben geen Nederlander' (I am not Dutch) seems to have struck a chord with many.
Ezzeroili, who is of Moroccan descent, directly addressed the Netherlands, the country of her birth, and told it that the relationship between them is at an end and that a separation, or even a divorce, is on the cards.
'The words "I am Dutch" stick in my craw,' Ezzeroili wrote. Her disenchantment with the Dutch lies in the fundamental Dutch refusal to accept her as one of their own, she maintains, and increasingly she labels herself Moroccan, 'not from Moroccan chauvinism but to harness myself against your distrust and casual rejection'.
Ezzeroili recounts how she's stopped going to the hip bars and cafés frequented by the white chattering classes and is turning to waterpipe cafés. She is angry, she says. For all her education, her job and all the middle class trappings she's acquired, true acceptance still eludes her, and for many who don't have her level of education things are worse still.
Judas kisses
And it is not the supposedly Wilders-voting 'Tokkies' that make her feel unwelcome but rather the elite who dole out 'Judas kisses to [MP] Khadija Arib in front of the cameras and mock her accent behind the scenes'.
At a party she feels unable to comfort a young man of mixed Pakistani-Surinam descent who feels increasingly lonely the more successful he becomes. What she can't bear to tell him is that 'The Dutch dream is a deception. It's a deception because it comes with a condition: that your background becomes unnoticeable to others.'
On a trip to Morocco, a country where she 'would be much worse off as a woman', she is welcomed: she has 'come home', an old man tells her. The Dutch show no such loyalty towards her unless she can elicit their approval by telling them 'stories about my skating talents, my preference for stamppot over lamb chops and the fanatical attempts of my mother to learn Dutch'.
Narcissistic navel-gazer
The column, aimed at the white, middle class readers of the Volkskrant, generated a lot of response, some soul-searching and some online abuse. Ezzeroili was described as a narcissistic navel-gazer and a victim with no backbone. But others said she was spot-on about the way people with different backgrounds are treated in this country.
Columnist Ebru Amar let rip in her own column on tpo.nl. 'A mocro's choice is simple: do I remain a victim or am I just as good as any Dutch person?' she wrote in her usual abrasive style before slating Ezzeroili for choosing to be 'a professional Moroccan. I can't really interpret her whining in the Volkskrant in any other way', Amar wrote.
She also has a go at the paper: 'Being pathetic, pointing the finger and whining about feeling excluded because of the colour of your skin are bound to make you a hit with the Dutch media. Add the curly hair, the smooth face of the post-adolescent, the discontented hipster gaze and you know: there's a new kid in town and her name is Nadia Ezzeroili. Embraced by the respectable media who crow: WE'VE GOT HER!'
You are Dutch
In a VN piece entitled Nadia Ezzeroili, you ARE Dutch,  journalist Henk van Renssen urged Ezzeroili to stay and not give xenophobes the satisfaction of seeing her leave. He did, however, express surprise at her description of a 'warm and honest white working class and a cool, fearful and hypocritical (seemingly tolerant but hiding their racism) middle class.
The Netherlands is split between people who reject the multicultural society and those who embrace it and try to find solutions if there are problems. 'That split runs through all classes', Renssen wrote.
Political scientist Meindert Fennema, also on tpo.nl, said Ezzeroili is right: background does matter and pursuing the dream comes with a price. He compared the columnist to successful writer and journalist Anil Ramdas who 'desperately tried to ingratiate himself with the elite by slating the Tokkies' – the Dutch equivalant of trailer trash.
Not so Ezzeroili who squarely blames the elite. Fennema concluded that 'For Ramdas, the price for his successful adaptation was too high. He left for India as a correspondent, wrote the beautiful novel Badal, and shortly after returning ended his life.'