Soon the south of the Netherlands will be plunged into the mayhem that is Carnaval, the feast that traditionally preceded the big fast at Lent. Here's what you need to know should you decide to spend a couple of jolly days onder de grote rivieren (south of the big rivers) or any of the other, mainly Catholic, regions in the Netherlands where Carnaval is king.
1 Carnaval is a moveable feast. This year the festivities will kick off on February 7 and end two days later, on February 9 – the day before Ash Wednesday. Preparations start on the 11th of the 11th, at 11:11 – 11 being the fool's number in the Netherlands.
2 If you plan to go off and celebrate, there is no use consulting your NS train schedule because the names of many towns change for the period. Den Bosch becomes Oeteldonk; Bergen op Zoom Krabbegat and Tilburg Kruikenstad. The northern cities are making an effort to join in the fun but calling Den Haag Kreesiedentie seems a tad contrived.
3 Amsterdam deserves a separate entry: it will have a Carnaval name for the first time this year. Thanks to a group of Brabanders living in the capital, Amsterdam will go by the name of Gròòtgragtegat, meaning something like a big place full of canals.
4 Every town has a Raad van Elf (the number, not the pixie) and a Prins Carnaval. Eleven men (DN found only one Carnaval organisation that stipulated that both men and women could apply for the job) are given the important job of monitoring the festivities. The prince, often an important or well-known inhabitant of the town- is master of ceremonies.
5 The Dutch carnival optochten, or parades, often take the mick out of of local or national politicians. Politics is spilling over into the festivities in another way this year: in Maastricht, it would be appreciated if you didn't turn up wearing terrorist garb. Not surprisingly considering the climate, Dutch parades do not feature many scantily clad nubile dancers in glittery costumes as they do in Brazil or the Caribbean.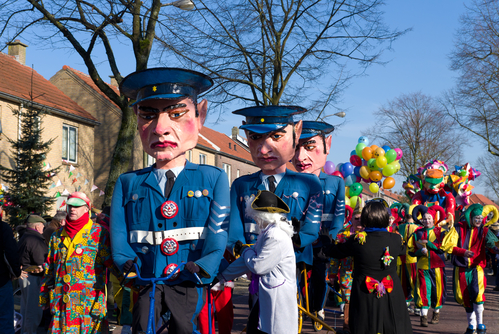 6 Ok, so carnival is much more than the annual totally-out-of-your-skull-continuous-bender, as envious and non-jolly northeners like to portray it. Nevertheless, a lot of beer is consumed. According to a poll from 2012, on average Limburgers drank almost 36 glasses of beer in 2.6 days (around twice the amount consumed by more abstemious revellers in Flevoland). Of those who came down to celebrate from 'above the rivers', 28% were off work ill on Monday.
7 A charming if incomprehensible carnaval tradition is the beer barrel speaker. Tonproater, sauwelaar, ouwoer or buuttereedner – you will not understand a word as these discourses from the beer barrel are delivered in the local dialect. While the locals are falling about laughing you can slink away to the nearest barrel that actually contains beer.
8 You would think that carnaval with its ancient roots would have pride of place on the Unesco cultural heritage list. But the Brabanders, for one, are not keen. The Brabant Carnaval Federation fears the festivities might attract tourists from abroad. 'This isn't Volendam', its chairman has said.
9 Even the way people say hello changes at carnival. You say alááf and if you're really brave you'll accompany the word with the appropriate gesture: you move the fingertips of you right hand to your left temple (with the back of your hand facing your face, otherwise it will look as if you have an itch). Alaaf is said to derive from elf (eleven) or alle ab, which is German for tables and chairs against the wall, we're having a party!
10 On your wanderings from bar to bar you will often encounter a dweilorkest, or roaming-the-streets-under-the-influence band. These will play carnavalskrakers, silly songs written especially for carnaval, such as this, and other jolly tunes. Alaaf!
DutchNews.nl has been free for 12 years, but now we are asking our readers to help. Your donation will enable us to keep providing you with fair and accurate news and features about all things Dutch.
Donate via Ideal, credit card or Paypal.