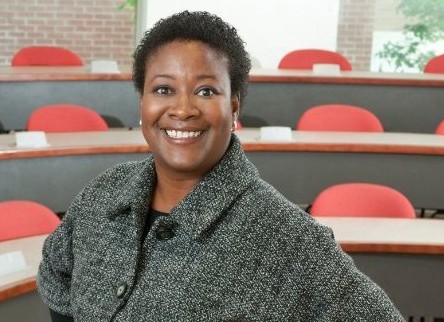 Entrepreneur Deborah Carter is a British Canadian dual national and has lived in the Netherlands on and off for 12 years. She fell in love with Amsterdam because of its people and says the Dutch are the most loyal friends you could ever have.
How did you end up in the Netherlands?
I was working for The New York Times in Manhattan and gradually came to the conclusion that there's more to life than work, cocktails and ceaseless social climbing. I was looking for a kinder, gentler way of life (along with more than 10 vacation days per year) surrounded by culture, the arts and endless travel possibilities.
I wanted to spend one year working in Europe before 'settling down' back in Canada where I come from. I had been to Amsterdam several times for vacation and loved the city and its vibe. While still in NYC, I started emailing people in Amsterdam for advice on where to look for jobs in digital media. I wrote to a woman who had just set up an Internet research company. We exchanged tips and then out of the blue, she invited me to come work for her and set up a new business unit. She warned me that the pay was crap but that I'd meet lots of potential employers after a few months. All this based on five emails and a 15-minute interview.
I remember my sister telling me that I was crazy decamping to Amsterdam like that. But I thought 'you only live once'. I did it and the rest is history. One year has turned into 12 years and counting!
How do you describe yourself – an expat, lovepat, immigrant, international, etc?
I'm an Amsterdammer with international origins more than anything else. I love the Netherlands but I also love the country I come from: Canada. But what I love most is Amsterdam, this amazing city where you can be whoever you want to be and meet people who are just like you, foreigners who choose to be here because of the quality of life and values that this city stands for.
How long do you plan to stay?
Who knows? When I lived in NYC, I thought I'll stay here forever and that didn't happen. Somehow, though, Amsterdam is different. Whenever I land back at Schiphol or arrive back at Amsterdam's Centraal Station, I relax and think "I'm so glad to be back home."
Do you speak Dutch and how did you learn?
Not well but I can get by. I've taken lessons on and off and I took continuous lessons last year and until this Spring. I enrolled in a great course called 'Goed. Beter. Best.' given by an organisation called Alsare. Basically, it's for parents who want to help their primary school children. You learn Dutch in the context of understanding the Dutch school system and how you can help your child do well at school. You learn Dutch vocabulary and grammar as well as things such as the logic behind how maths is taught here (splitsen). It was an amazing experience to learn with women from Morocco, Turkey, Israel, Mexico, the US, Italy, the UK, Russia and Bosnia. And you know what: the Moroccan and Turkish ladies left us in the dust. Their Dutch is way better than ours!
I had to stop my Dutch lessons for the time being because I've just launched a start-up which takes all of my time. But my intention is to start the lessons again. They have made such a difference. My son is now my Dutch teacher. He's constantly reminding me that his Dutch is better than mine so I remind him that my English is better than his.
What's your favourite Dutch food?
Definitely stamppot and stoofvlees with appeltaart, Bossche bol (giant profiterole) or Haagse Bluf (berry-flavoured meringue) for dessert. It's a solid, no nonsense meal which is hearty and pure. Kind of like the Dutch. One of my best friends is a Dutch woman who has made it her business to expose us to Dutch culture and traditions. She taught my son to make a hole in the stampot and fill it with gravy. She taught us to make Haagse Bluf.
What do you miss about back home and why?
I miss my family and my friends from way back. I miss endless amounts of space and convenience. I miss the friendliness and politeness of Canadians. The thing I miss the most: that multiculturalism is normal. It's okay to be from different places and still be proudly Canadian. Oh yeah, and free universal healthcare. (Canadians have access to free healthcare which would save me around €150 per month if I still lived there.)
How Dutch have you become and why?
Sex. (Shrug.) Drugs. (Shrug.) Bad weather. (Shrug.) The Belastingdienst. (Heart palpitations. Pour me a drink!)
What's your top tourist tip?
Go to a brown café in a non-touristy area by yourself and pull up a chair at the bar. Chat over a drink with the bartender or locals. That's how I fell in love with Amsterdam. The people, plain and simple.
Tell us something surprising you've found out about the Netherlands.
I've found that the Dutch can be very wary towards foreigners. So you have to invest in relationships and you have to put in the time and effort to earn their trust and loyalty. But when you do, the Dutch are the most steadfast and loyal friends you could ever have. That's what a lot of expats who don't integrate never get to experience. Having a son who goes to Dutch primary school and who identifies strongly as being Dutch has opened up Amsterdam and the Netherlands to me in a way that I never could imagine.
If you had just 24 hours left in the Netherlands, what would you do?
Aimlessly wander around the city all day, window-shopping, stopping in local bars and peering boldly into as many home windows as possible. I'd then stuff my face with stamppot, stoofvlees and appeltaart before grabbing the free ferry to NDSM island to view the city at night from the water. Then I'd begin plotting my permanent return to the city.
Deborah Carter is co-founder and business director of NewTechKids, an after-school technology and programming academy in Amsterdam for kids aged 4-12 years.
Thank you for donating to DutchNews.nl
The DutchNews.nl team would like to thank all the generous readers who have made a donation in recent weeks. Your financial support has helped us to expand our coverage of the coronavirus crisis into the evenings and weekends and make sure you are kept up to date with the latest developments.
DutchNews.nl has been free for 14 years, but without the financial backing of our readers, we would not be able to provide you with fair and accurate news and features about all things Dutch. Your contributions make this possible.
If you have not yet made a donation, but would like to,
you can do so via Ideal, credit card or Paypal.