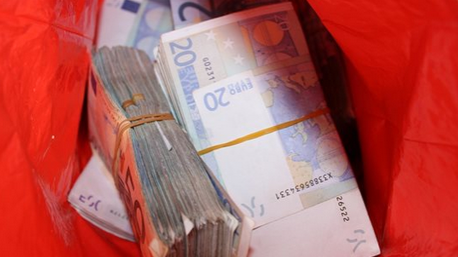 Good bankers aren't paid nearly enough, says Errol Keyner.
Top Dutch bankers are fobbed off with a pittance these days. Yes, that's right, a pittance. And no, I'm not looking for a job at a bank nor do I have any sympathy for top bankers.
All I'm saying is that competent bankers whose moral compass is not permanently out of whack are few and far between.
We want banks to develop a sustainable business model and a manageable risk profile. In order to do that we need clever people, preferably clever people who are more honest than the average citizen. They also need a thick skin. Bankers will not be popular for a while yet.
The pay rise, from €600,000 to €700,000 a year, for ABN Amro executives caused a storm the other day. €700,000 is a lot of money. So is €600,000. But a truly competent executive at ABN Amro would be worth many times that amount. Everybody is looking for top talent, as the owner of ABN Amro (i.e. the state) should know.
The executives at ABN Amro are a sorry lot anyway. As long as the state has a stake in the bank they are exempt from receiving bonuses. Not that remuneration will rocket once the bank is floated on the stock market. As is the case with competitor ING, bonuses can't exceed 20% of wages.
The Netherlands is a little more tight-fisted in this respect than other European countries where variable remuneration can go up to 100% and it's a perfect Scrooge compared to the US where the sky is the limit.
The salary hike is nothing more than the Dutch way around this limit. It's understandable but wrong because it rewards executives even when their performance doesn't warrant it.
And how can it be that top executives are getting more money while most staff have not had a raise for years and are even in fear of losing their jobs?
The answer is clear: many people who work in banks are just as superfluous as the branches they work in. Unions say bank staff deserve as much compassion as cleaners who do a dirty job for hardly any pay.
The truth is that a wage slave at a bank earns at least 20% more than workers in other sectors. Middle management is bursting with people on two to three times the average wage, with little or no added value to customers and the bank.
A competent executive wouldn't be afraid of getting rid of hugely overpaid staff and finding people who really add value. That executive can have a great big bonus as far as I'm concerned. A variable one.
Errol Keyner is deputy director of Dutch shareholders' association VEB.
This article appeared earlier on Z24.
DutchNews.nl has been free for 13 years, but now we are asking our readers to help. Your donation will enable us to keep providing you with fair and accurate news and features about all things Dutch.
Donate via Ideal, credit card or Paypal.