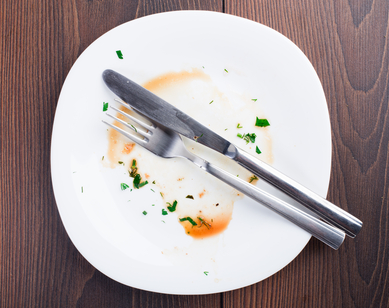 A blemish on your fruit & veg doesn't mean it's inedible. So why are supermarkets trying to convince us otherwise? ask Joszi Smeets and Joris Lohman.
2014, the European year against food waste, had barely come to an end when supermarket chain Plus launched a very strange ad indeed. It shows some children attacking a cauliflower with a felt tip pen and a hammer in the hope of getting the hated vegetable off the menu. Their mother walks in, see the battered cauliflower and concludes it is no longer edible. She heads back to Plus and is given a substitute cauliflower: fresh guarantee is fresh guarantee.
The Youth Food Movement decided to respond with a video of its own which went viral. We think the guarantee on fresh food really guarantees perfectly good food going to waste. What is wrong with a cauliflower with a little blemish? Every single consumer is still chucking out some 14% of the all food he or she buys. That is 0,8 billion kilos a year, at a cost of €4.4bn to the economy: money spent on wasting food. In a world faced with the question 'How are we going to feed nine billion people in 2050?' the YFM feels the waste promoting ads Plus is making are, well, a bit of a waste.
On the supermarket's website the rules for the guarantee on fresh food are explained. For unpackaged vegetables, like the cauliflower, the guarantee kicks in when the product shows outward signs of no longer being fresh. That's as specific as it gets and it suggests the consumer and the shop assistant are the arbiters of the freshness of the product.
Perfection guarantee
The campaign Damn Food Waste, which is supported by the University of Wageningen, showed that a little under 50% of people bin products that have gone past their sell by date without stopping to use their eyes and noses. The sell by date does not have any bearing on the edibility or even the quality of a product. It is merely there to protect the manufacturer and the supermarket.
The campaign did prompt junior agriculture minister Sharon Dijkstra to put the subject of sell by dates on the European agenda. When Plus says vegetables with a blemish can be returned to the shop it isn't promoting a guarantee on freshness but a guarantee on perfection, a cosmetic consideration that is only adding to the waste problem.
Plus is not the only supermarket to promote waste. Lidl with its 'check for blemishes' equates perfection with quality as well. And Jumbo tried to convince us that their vegetables are much more attractive than the crooked carrots from our own garden.
And all this at a time when people are becoming conscious of the problem of waste. In the Netherlands the anti-food waste initiative Kromkommer (crooked cucumber) was launched and French supermarket Intermarché attracted 24% more customers with its Inglorious Fruit and Vegetable campaign. Albert took notice and introduced its Buitenbeentjes (odd ones out), packages of 'odd' looking fruit and veg that can be ordered online.
Plus told YFM it's not going to remove the ad from the screen any time soon. They do promise to look at the reactions when they evaluate the ad. Plus has some understanding for the confusion the ad has caused but it still feels the viewers will understand its intended playfulness. Perhaps we should trust their common sense instead.
Joszi Smeets and Joris Lohman belong to the Youth Food Movement
This article appeared earlier in Trouw
DutchNews.nl has been free for 13 years, but now we are asking our readers to help. Your donation will enable us to keep providing you with fair and accurate news and features about all things Dutch.
Donate via Ideal, credit card or Paypal.