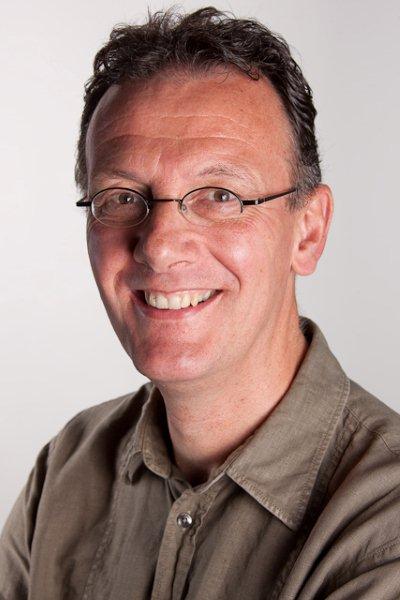 Tony Parr learned Dutch at a British university 35 years ago and likes his wife's boerenkoolstamppot.
How did you end up in the Netherlands?
That's a long story, but I'll try and keep it short. I'm one of a very select band of individuals who can actually claim to have studied Dutch language and literature in the UK. I'd started out doing French and Latin at university, but very quickly found myself getting bored with both of them, which just happened to be subjects I was good at at school.
Since my mother was Belgian (Flemish) and I spoke a couple of words of Mechelen dialect, I thought it would be a good idea to ditch Latin and take up Dutch instead. Without a family connection it might just as easily have been Norwegian or Romanian. Unfortunately, I was attending an ancient and venerable English university, which meant that I graduated with a thorough acquaintance with medieval and 19th-century literature, but without being capable of speaking the language properly.
So I decided to apply to all the Dutch universities to see whether they might not need a language assistant in their English departments. Which is how I found myself travelling to Groningen in 1978 to take up a very small teaching job at the university there.
I was asked to teach a drama class to second-year students and planned to stay for a year. It was very gezellig, though, and I liked Groningen and the Groningers. So, without any clear plan to guide me, I ended up staying.
How do you describe yourself – an expat, lovepat, immigrant, international etc – and why?
I suppose I started out as an expat on a one-year contract, intending to return to the UK at the end of it. I then became a lovepat of sorts when I bumped into this nice Dutch girl who insisted on taking me to Schiermonnikoog. Having now made my home in the Netherlands, I think it's safe to refer to myself as an 'immigrant'.
How long do you plan to stay?
Indefinitely. England is a great place to go on holiday, but I have no particular urge to go back there to live. Moreover, Holland's a good place to live.
Do you speak Dutch and how did you learn?
Yes, I do. I learnt a couple of words from my Belgian mother (pateekes, kriekskes, that sort of thing) and then spent a few months beavering away in a language lab (yes, I'm that old) in Cambridge.
But my fluency did not really pick up until I spent a summer working as a waiter in a hotel restaurant in Paterswolde, near Groningen. It was a great experience (I remember being asked for 'Maggi' and not having the faintest idea of what it might be – was it an object, a dish or perhaps a person?): they were so friendly and patient with me!
What's your favourite Dutch food?
Although I'm usually the cook at home, my wife makes a really wicked 'boerenkoolstamppot' that's up there on my list of favourites, together with a gud ol' 'gehaktbal' with a generous helping of mustard.
What do you miss about back home?
Not a huge amount. Mainly the sense of space, the landscape, the trees and the fact that, if you're standing in a queue, you generally end up in a conversation with the person next to you. That doesn't seem to happen as much here.
How Dutch have you become?
I think I probably went Dutch when I started walking on the right-hand side of the pavement. It took me many years to realise that this was the done thing over here and I seem to have absorbed the habit.
On the other hand, I've never seen the humour in certain typically Dutch comics like Toon Hermans and Freek de Jonge, so perhaps I'm still a bit of an outsider.
What's your top tourist tip?
A few years ago, I moved from the depths of Limburg to the Haarlem area. In the old days, visitors from abroad would be treated to a walking tour of the old town of Maastricht, but nowadays I tend to take people to the Zaanse Schans. It's an open-air museum near Zaandam and is a fascinating combination of history and fun on a manageable scale.
I should also mention the national maritime museum, the Scheepvaartmuseum, in Amsterdam, which I have got to know recently. It's a brilliant place with stunning design.
Tell us something surprising you've found out about the Netherlands.
One of the aspects of life in Holland that I've never got used to is congratulating people on someone else's birthday – a family member, a friend or a neighbour. It seems to be totally natural for the Dutch but I've never come across it anywhere else (although that's hardly a scientifically confirmed finding) and I still have to remind myself to do it. And I somehow still feel uncomfortable doing it.
If you had just 24 hours left in the Netherlands, what would you do?
Do some of the things I've always been planning to do but somehow never got round to. Like go for a meal at a Michelin-starred restaurant, visit Terschelling or go out on a fluisterboot in the Biesbosch. More realistically, though, I'd probably end up taking the dog for a walk in the Achterhoek.
Tony Parr, 58, has been in the Netherlands for 35 years. He is a language trainer and translator and lives in Heemstede. www.tonyparr.nl
Thank you for donating to DutchNews.nl
The DutchNews.nl team would like to thank all the generous readers who have made a donation in recent weeks. Your financial support has helped us to expand our coverage of the coronavirus crisis into the evenings and weekends and make sure you are kept up to date with the latest developments.
DutchNews.nl has been free for 14 years, but without the financial backing of our readers, we would not be able to provide you with fair and accurate news and features about all things Dutch. Your contributions make this possible.
If you have not yet made a donation, but would like to,
you can do so via Ideal, credit card or Paypal.