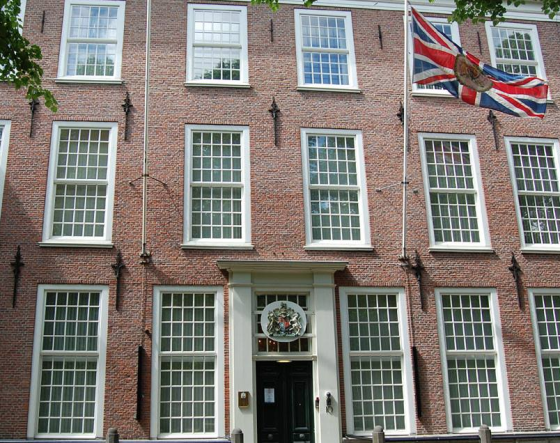 Photo: British embassy Facebook
British citizens in the Netherlands will have the same rights as they do now after Britain leaves the European Union, under the terms of the deal thrashed out between Brussels and the British government, although the freedom to move to another EU state is still up for discussion.
'The rights of EU citizens living in the United Kingdom and United Kingdom citizens in the EU27 will remain the same after the United Kingdom has left the EU,' the European Commission press release states.
According to Dutch statistics office CBS, there are almost 85,000 Brits in the Netherlands (compared with 73,000 Dutch nationals in the UK). British expats make up around 1% of the population in cities such as Amsterdam.
'Good to see that sufficient progress has been made in Brexit negotiations in the areas of citizens' rights, the financial aspects and the (Northern) Irish border,' prime minister Mark Rutte said on Twitter.
'I have told Theresa May I am happy that we can proceed to the next phase in which we can discuss our future relationship.'
Grubby bargain

However, Jane Golding, chairwoman of lobby group British in Europe said the deal is even worse than expected.
'After 18 months of wrangling the UK and EU have sold 4.5 million people down the river in a grubby bargain that will have a severe impact on ordinary people's ability to live their lives as we do now,' she said.
'This is a double disaster for British people living in Europe. At the moment, not only is it unclear whether we keep our automatic residency rights, but it looks like we can also kiss goodbye to continuing free movement beyond any agreed transition period – which so many of us who work across Europe rely on to support our families'.
Durable relationship
The detailed agreement says that Britain and the EU27 will 'facilitate entry and residence of partners in a durable relationship' and the rules will also apply to 'children born, or legally adopted.'
In addition the rights of family members will be retained 'irrespective of changes in status', for example, a dependent child becoming a worker, student or self sufficient'.
Conditions for gaining permanent residence will remain five years 'continuous and lawful residence.'
Trade talks
The agreement means that trade talks between Britain and the EU can now begin. Commission president Jean-Claude Juncker told reporters on Friday morning he would be recommending to EU leaders that they agree 'sufficient progress' has been made at a key summit next week.
The agreement also states there will be no hard border between Northern Ireland and Ireland and that the the Belfast agreement will be upheld.
In addition, it sets out the rules for how the British exit bill will be calculated – thought to be around €50bn.
Bad news
Dutch foreign affairs minister Halbe Zijlstra told reporters it is extremely important that Britain's obligations to the EU are 'handled neatly.'
'Brexit is bad news but among all the bad, this is good news,' he said.
Read the full document about citizens' rights
So, a quick round-up of the main points to note from this morning's #A50 agreement:

1/

— Simon Usherwood (@Usherwood) December 8, 2017
To have your say, please use the comment section below